STROMSBURG – Shawna Elaine Hanson and Troy James Schweitzer exchanged wedding vows on Saturday, July 8, 2017 at the Evangelical Covenant Church of Stromsburg with Pastor Dan Walter officiating.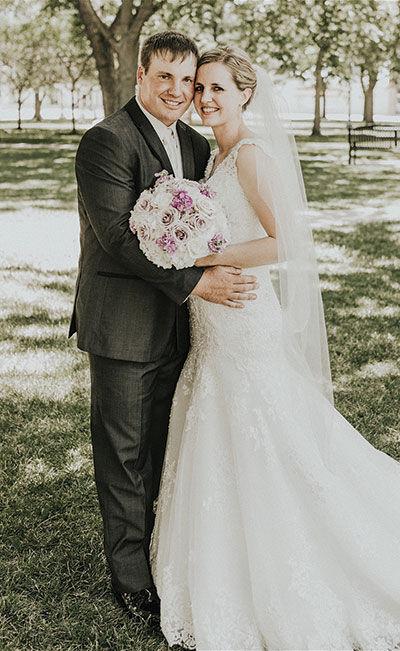 Parents of the couple are Mark and Judy Hanson of Benedict and Rod and Nadine Schweitzer of Broken Bow.
The bride was given in marriage by her parents Mark and Judy Hanson. Rachelle Wieskamp of North Loup served as the Matron of Honor. Bridesmaids included, Alisha Huffman of Chantilly, Va., Natasha Seacrest of Grand Island, Kathryn White of Omaha, Emily Rush of Lincoln and Jaymee Schweitzer of Broken Bow.
Ariela Hanson of Columbus was the Flower Girl.
Kyle Schweitzer of Broken Bow served as the Best Man. Groomsmen included, Mike Schweitzer of Broken Bow, Rick Schweitzer of Arnold, Shane Hanson of Columbus, Lance Oatman of Broken Bow and Seth Mattox of Broken Bow.
Luke Huffman of Chantilly, Va. Served as the Ring Bearer and Jay Seacrest, Steve Huffman and Justin Wieskamp served as ushers.
Music for the ceremony was provided by Carolyn Hanson, Merry Hanson and Thomas Peace.
A reception was held at Stonecreek Event Center in McCool Jct. and the newlyweds spent their honeymoon on the Oregon and California Coast.
Shawna is a graduate of Cross County High School and the University of Nebraska-Omaha. She is currently employed as a library media specialist and reading teacher at Broken Bow Public Schools. Troy graduate from Broken Bow Public Schools and currently farms and ranches with his father and brother.
The couple is at home in Broken Bow.