YORK — Actors from York and the surrounding communities are putting on a special holiday performance of "The Game's Afoot (Holmes for the Holidays)" as part of the Yorkshire Playhouse's holiday festivities.
"The Yorkshire Playhouse Holiday production has been a fun holiday tradition for the York Community for many years now and this year's show is going to be a lot of fun," said "The Game's Afoot" director C. Danielle Deal.
In "The Game's Afoot," protagonist William Gillette (Caleb Clark) has played Sherlock Holmes on stage for years. When his fellow actors join him at home for the holidays, he doesn't expect having to solve a real murder. With eccentric friends and his doting mother (Courtney Kinnison) along for the ride, he'll have to keep a step ahead of a meddling police officer (Sami Berry) – not to mention the murderer -- in order to make it to Christmas.
"Who doesn't love those comedic mysteries where the heroes are constantly bumbling their way through a ridiculous set of circumstances and even the dead body just won't stay dead?" Deal said. "It's a great mystery and a lot of laughs."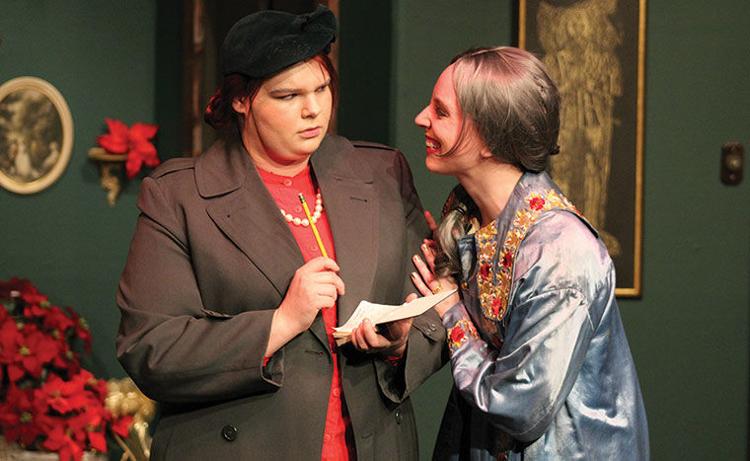 If that wasn't enough, this year the Yorkshire Playhouse is featuring a new addition to their holiday production: 30 minutes before the show, the evening will be kicked off with a Preshow Holiday Concert. "Each night will be a unique experience with different musical performers," Deal explained.
Putting on a production takes a lot of teamwork and chemistry, and "The Game's Afoot" is no exception, Deal said. "The comradery between the cast and professionalism with which they approach their art make it a fantastic experience that you won't want to miss," she said.
Kelle Widger is assistant director. The cast includes: Caleb Clark (William Gillette), Courtney Kinnison (Martha Gillette), John I. Baker III (Felix Geisel), Amanda Prellwitz (Madge Geisel), Nathan Sheets (Simon Bright), Lauran Ostberg (Aggie Wheeler), Sami Berry (Inspector Goring) and Bridget Yamber (Daria Chase).
Working their magic are production assistants Daniel Bauer (Stage Manager); Larry Deal and Lily Houston, along with Lauren Thomas and Paige Thomas (Stage Crew); C. Danielle Deal (Lights and Sound); Mitchell Roush and C. Danielle Deal (Sound Design); John I Baker III and C. Danielle Deal (Lighting Design); C. Danielle Deal (Set Design); Judy Andrews, Carol Baker, John I Baker III, Daniel Bauer, C. Danielle Deal, Larry Deal, Leslie Deal, Chrystal Houston, Eleanor Houston, Fiona Houston, Lily Houston, Casey Kinnison, Courtney A. Kinnison, Adam Kreifels, Amanda Prellwitz, Nathan Sheets and Kelle Widger (Set Building); C. Danielle Deal & Kelle Widger (Props); and Kelle Widger (Box Office).
Evening performances are December 4 - 8 at 7:30 p.m. There is also a Sunday matinee performance December 9 at 2:00 p.m. The 20-minute mini concerts begin at 7 p.m. through Saturday, and at 1:30 p.m. for Sunday's matinee.