YORK—It was playtime at Kilgore Memorial Library Wednesday, as local toddlers came to the library for Toddler Dance and Fun Time.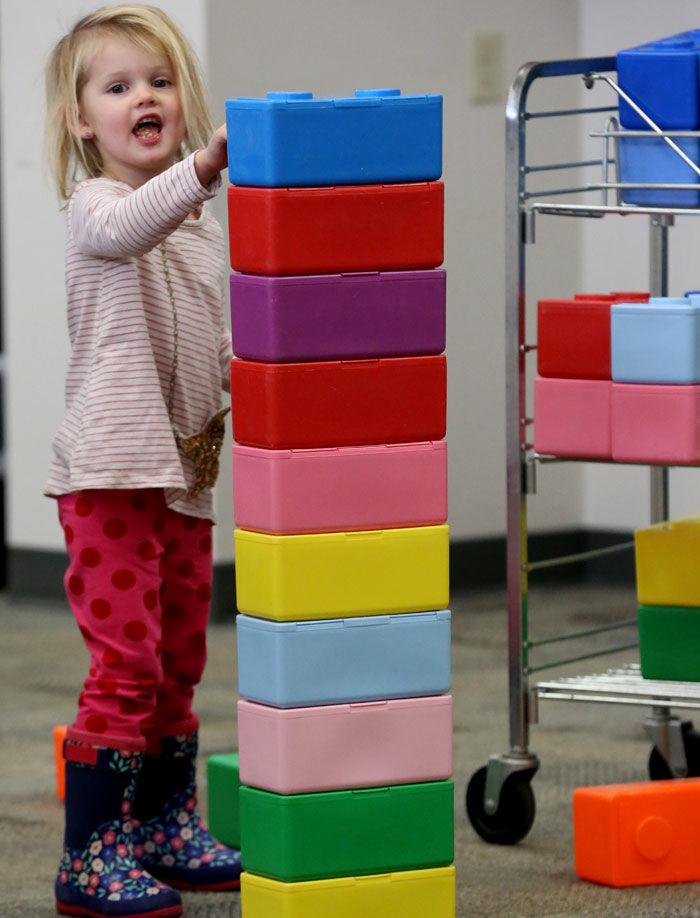 Originally created by former children's librarian Judy Andrews, Toddler Dance and Fun Time is now led by Kilgore Memorial Library Public Services Coordinator James Tidei.
Tidei said the special time for toddlers was developed to focus on play -- not necessarily reading. "It's much more active [than story time]," Tidei said.
Even though there isn't a story formally read during Toddler Dance and Fun Time, having such events in the library draws families closer to other library resources. "After Toddler Dance and Fun Time, a lot of the time they'll come out to the main part of the library to check out books," Tidei said.
During Toddler Dance and Fun Time, the kids were treated to a snack and several activities perfect for toddlers.
Fun kid-oriented music played in the background, as kids bounced from activity to activity – including building with colorful giant blocks and playing with a large bouncy ball.
Tidei said events like Toddler Dance and Fun Time are a great way for the community's kids and parents to get to know each other, and help toddlers develop socially. "Having Toddler Dance and Fun Time gives them time to get together to learn how to share, and other important social skills," he said.
Parents seemed to appreciate the special opportunity for kids to play together, too.
"It's nice that they [toddlers] have somewhere to go and get their energy out," parent Miranda Beck said.
With busy schedules in mind, parents or guardians could drop in and leave anytime from 10 a.m. to 11 a.m.
The next Toddler Dance and Fun Time is the last of this year. It is Wednesday, December 12 at 10 a.m.