YORK – The 20th year of the York Area Ag Hall of Fame was celebrated Sunday afternoon, as two plaques were hung in honor of three people who spent their lives dedicated to agriculture and community.
Honored were the late James "Frank" and Beverly Price and the late Herman Tietmeyer Jr.
Family members of Prices and Tietmeyer were joined by members of the community to remember these individuals.
Cornerstone Bank was this year's event sponsor and Ron Salsman presented the plaques to the family members.
York News-Times Managing Editor Melanie Wilkinson and Publisher Carrie Colburn read aloud the stories about the Prices and Tietmeyer, prior to the presentation of the plaques.
The families were each given a plaque for them to keep and larger versions were hung with the other 72 in the antique tractor building at Wessels where they will permanently remain on display.
The Prices were livestock producers and innovative farmers who lived and worked the land in the area of Roads 8 and L. They raised corn, sorghum, wheat, soybeans, alfalfa and registered Angus cattle. They sold purebred herd bulls to ranchers in western Nebraska.
They were known for hosting visitors from all over the United States and overseas to demonstrate new equipment and for community social occasions. They were advocates of conservation.
And they were community-minded individuals, being leaders in 4-H, Girls and Boys Scouts, at their church (St. Joseph's Catholic Church), the VFW and the Elks Lodge. Beverly also started the St. Joseph's School hot lunch program and Meals on Wheels program in York.
Tietmeyer was an innovative livestock producer and farmer who lived and worked north of York. He won awards from the University of Nebraska for his beautiful, impeccable farmstead. He was one of the first hog producers to build a dedicated farrowing house. And he was a prolific in the raising of his cow/calf herds. He was active in the York County Livestock Feeders Association and supported 4-H livestock programs.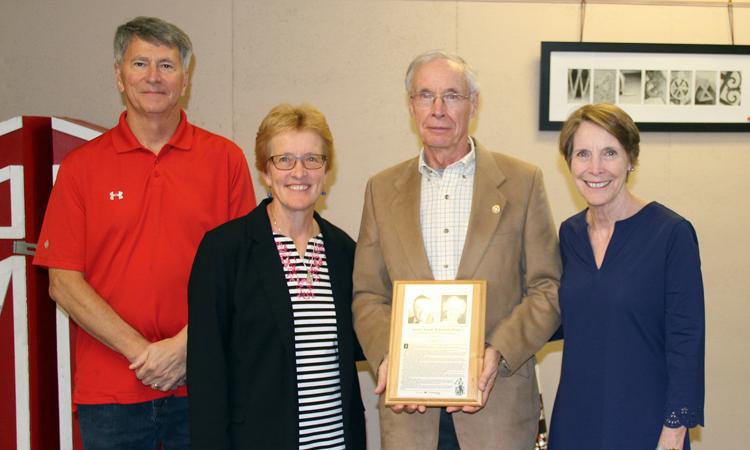 When it came to crop production, Tietmeyer was on the leading edge of modern equipment and practices, being among the first to utilize irrigation in York County, with his first deep well in 1949.
Tietmeyer also participated in corn picking contests and was always willing to try a new crop to the area, being one of the first to raise commercial sunflowers and popcorn.
The York Area Agriculture Hall of Fame started in 1999, when the News-Times embarked on its "Celebrate 2000" theme in preparation for the turn of the century. Each year, nominations are accepted from the public and two honorees are chosen. Their life stories are written and the plaques are created for the large display at Wessels.
Over the next year, the News-Times will be accepting nominations for next year's induction. These can be mailed to Melanie Wilkinson at the York News-Times at Box 279, York, NE 68847 or emailed to melanie.wilkinson@yorknewstimes.com. Those who wish to make a nomination are asked to write details about the person they are nominating, including information about the nature of their work and dedication to agriculture, how they've made an impact in the local, state and national ag arena, as well as their community involvement. And all those nominating folks are asked to provide contact information, so if their nominee is chosen, YNT staff will be able to reach out for more information and photographs.