YORK – A large number of York residents were in attendance for this week's York City Council meeting – they had questions, concerns and some were in there in support – regarding a possible new transitional housing facility for female parolees/probationers on East Ninth Street.
The property in question is located at 605 East Ninth. A number of years ago, it was a group home used by Epworth Village. It was owned by the Women of United Methodist Church entity. It has been vacant for some time.
In late December, the entity of Alcohol and Drug Solutions in Lincoln purchased the property with the intent of establishing New Life Place. The facility would accommodate up to 10 women and "provide supportive, temporary housing which would include programming and services to facilitate transition to independent living. Programming/services are provided by trained and licensed staff who provide assistance, skill training and support to resident to develop competence and skills to enable them to successfully transition into the community," according to information provided by the owner, Dameon Gilfillan.
After the property was purchased, neighbors began to see activity at the house and then a large monument was placed in the yard. At that point, they began to research the ownership and their possible intentions. When they learned the nature of the intent – but had not been given any other information – they contacted city officials with questions.
York City Administrator Joe Frei told the council and audience that he asked Gilfillan to come before the council to explain their intentions after he was contacted by a number of concerned residents.
Mayor Barry Redfern said he wanted Gilfillan to come to the council as well, after residents contacted him – to answer questions and talk about the plans publicly.
"It was not our intent to create concern," Gilfillan said Thursday. "We have 28 beds now in Lincoln and we are serving some women from York there now. It was brought to our attention that there is a great need here and we found a property to open for 10 beds."
Gilfillan explained that since the passage of LB605 in 2015, Nebraska Probation has been given the responsibility of supervising clients within the community who have been released from the Nebraska Department of Correctional Services or local county jails under a term of post-release supervision. Presently, Nebraska Probation has identified a lack of access to transitional housing and funding for appropriate residential reentry options. He said transitional living was created to increase success for probation, post-release and problem-solving court individuals who also reducing recidivism. He said transitional living is to provide short-term, stable housing for individuals at high risk to reoffend while improving community safety. He said the supportive environment enables them to concentrate on treatment and employment, reintegrate them into the community with a goal of them becoming self-sufficient.
"All of the participants have been deemed appropriate to be in society, they are not violent offenders or sex offenders," Gilfillan said further.
He said in their other facilities, they have had zero issues with law offenses or violence.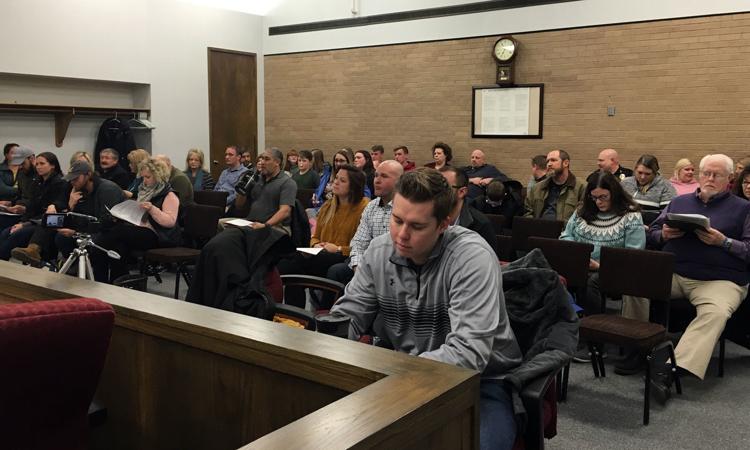 Gilfillan also provided to the council a copy of their program rules and requirements which include that job searches must be done daily until employment is secured, residents have to develop goals, they must attend relapse prevention groups once a week, they have to attend financial preparation groups once a month, they must attend daily living skills groups once a week, they have to be up and ready for the day by 8 a.m. and curfew on weekdays is 10 p.m. with it being midnight on weekends. And they are expected to have their personal and commons area clean and organized on a daily basis. Residents are subject to random drug/alcohol testing and they are expected to abstain from all mood-altering chemicals.
"Why York? Don't most go back home after they are released?" asked Councilman Ron Mogul.
"York is in dire need of transitional living services," Gilfillan said. "The legislature allocated money for it, yet there are none here. For the majority, home is toxic as that's where the problems started. With our staff, there is also a lot better success rate."
He said the population in this facility would be from York and surrounding counties.
"Our current York clients went to Lincoln because there is nothing here," Gilfillan said. "If they could get a good start, that's success."
Councilmember Christi Lones asked about the openness of the facility.
Gilfillan said, "If you go to our property, it's difficult to know what we are doing. In Lincoln, we have had absolutely no issues. You wouldn't know , except for the signage. You wouldn't be able to tell it is there on the block. They are highly supervised, they are going to work and school and meetings and there are no visitors allowed. There are no visitors, no overnights, this is a place for work and they are actively engaged.
"I understand the fear, but that's not who we are," he said further. "The people we serve, the women, will be from York and will be housed there based on their needs assessments. York is a high needs area as there is no safe place to go."
Lones addressed the residents' concerns about their children being in close proximity to this facility – as there are about 30 kids who live in that particular neighborhood.
"You will not notice that is what we do there, that's not who we are," Gilfillan responded.
Gilfillan's associate, Jeremy Luginbill, said these individuals "would be working on projects and toward their sobriety. Things are more likely to happen if they are engaging in substance abuse than if they are trying not to. They are normal people, they just suffer from a disease."
Councilman Ron Saathoff said he finds important value in the service they are providing – but he also hears the concerns of residents who worry about the values of their properties, if they choose to sell but can't get the proper purchase prices because people don't want to buy property near this facility.
"We have to think about that – these residents already live here, they go to work every day too and we have to look out for them too," Saathoff said.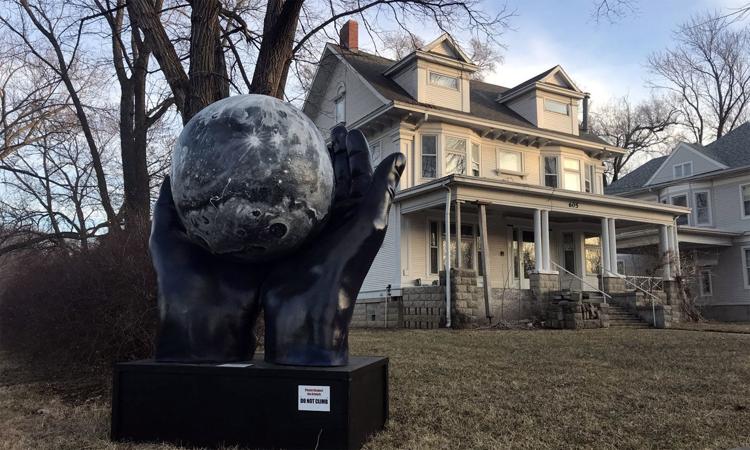 The large monument that was placed in the yard of the property, depicting two hands holding a moon, wasn't necessarily addressed by the crowd. But Gilfillan said they placed it there because "it was in line with our mission, we thought it would be welcomed. But if that's an issue, that can be addressed. It wasn't intended to be an eyesore."
"We are fully aware of what we are doing, we know what it is to be super vigilant," Luginbill said. "The last thing we'd want is for someone to be hurt, we want to help."
"We do not accept violent criminals or sex offenders," Gilfillan reiterated. "We are talking to probation officers every day. Our clients are supervised without being incarcerated and it is working. They want to be successful."
"Why this property?" asked Lones.
"It was presented to us that Epworth had a property," Gilfillan said. "We weren't looking – then conversations started and we entertained it."
He said more public announcement or conversation hadn't happened "because it all happened so fast" as they signed off on the property the day before Christmas and then there was the holiday season.
"I know it seems like we are coming in hot and aggressive and people are wondering what is happening," Gilfillan said. "A lot of stakeholders sought us out, due to our success and we are doing something right" with their other facilities.
Councilman Matt Wagner asked about zoning of that area. The YNT also spoke independently with Mayor Redfern and Councilman Mogul about that issue – it appears the legality of this facility being in that area is still unclear at this point. It is also unclear, right now, what actions the city council will have to take – or if action would even been needed -- regarding the allowance of the facility. Redfern and Mogul said city officials will be taking a close look at that – but with this being the first public discussion about New Life Place, this was the first time details have been disclosed to the city.
"We did look into the zoning of that area and with misinformation we thought we were in compliance," Gilfillan said. "It all happened really fast, we would never bring people in and try to hide it. We are doing improvements to the property now."
Jerad Sorgenfrei, a next door neighbor to this property, asked Gilfillan who he talked to prior to purchasing the property.
Gilfillan said he spoke with individuals "at the mission in York and other stakeholders and entities."
"But none from the community?" Sorgenfrei asked.
"We didn't have time," Gilfillan responded.
"I'm concerned about the fairness to the residents affected by this program," Sorgenfrei said.
"It wasn't supposed to be a secret, to play hide and seek, this is going on all over in Omaha and Lincoln and there has been no backlash," Gilfillan said further. "One of the first things we did was start to get things cleaned up – that all came to a halt when I learned about all of this, we want to be good neighbors."
Sorgenfrei continued to ask about the rush for them to move forward and Gilfillan reiterated that he didn't feel there would be any backlash because there has never been any before at any other locations.
"When you located the property, wouldn't that have been the time to see if it impacted the community?" Sorgenfrei asked.
"We had never had any bad backlash, but yes, you are absolutely right," Gilfillan responded.
Sorgenfrei asked if Gilfillan's workers would be living in York and raising families. Gilfillan said they intend to hire people from York to work there, as well as to do contractor work on the facility itself.
"Were you aware the property had been unused for a long period of time?" Sorgenfrei asked.
"I didn't know the timeline, I knew they had once been serving adolescents," Gilfillan answered.
"Did Epworth offer you any other properties?" Sorgenfrei asked.
"They didn't offer me any properties," Gilfillan responded.
"You said you are fully aware of your responsibilities, yet I find it interesting you weren't more forthcoming or wanting to provide information about your service without disrupting the community," Sorgenfrei said. "The way you went about it make us skeptical."
Sorgenfrei also said he hopes the future holds two-way conversations in a public environment with an amicable working relationship.
There were some in the audience who voiced support for the facility – with comments including "there is a need here, they have been to prison and jail and now they need a place to go to start over. Everyone says 'not in my neighborhood.' These people might be able to turn their lives around."
Another said New Life Place would be welcome in their neighborhood.
Paul Bethune said his parents live across the street and there is already parking issues in that area. He wondered about the number of vehicles that would be parked by the facility – Gilfillan said the residents do not have driver's licenses or cars and employees would bring in only a few.
Bethune also asked if the property would be tax exempt – Gilfillan said it would not.
Mayor Redfern reminded everyone that the council item before them at that time was for conversation only as there was no action item attached to the issue at this time.
Another neighbor said she didn't think "anyone disagrees there is a need for these types of services. I think one main concern is parking, and there is the issue that we didn't have a choice and humans like choices. We don't like having no input and many feel like they are backed into a corner."
There were questions about staff members' training – Gilfillan said his company employs licensed mental health practitioners, counselors, etc. He also noted that at the house itself, there wouldn't be staff there constantly, 24-7. "The residents will be going to work, they won't be confined to that house, it will be more like an apartment building.
"I can assure you, you will not be able to tell the difference, the women there will be trying to live their lives and be successful members of society," Gilfillan said further.
"I sincerely appreciate all the conversation and the tone of this conversation," Mayor Redfern said. "The purpose tonight is to get it all out in front of everyone. We will keep everyone informed about the way we will go."