STROMSBURG – Someone recently asked Dan Conway what his favorite memory was during his nine years as head coach of the Cross County Cougars boys basketball program.
"I said that's tough because there's several," he responded.
As Conway steps away from coaching and transitions to his new role as the 7-12 principal at Wilber-Clatonia, he'll be keeping some of those special moments that have stuck with him throughout the years close to his heart.
Conway, a native of Geneva, arrived at Cross County in the 2011-12 school year after spending the previous three in Beatrice, where he learned how to run a program as an assistant under Jim Weeks. He taught junior high English while coaching varsity basketball and junior high football, roles he held all nine years at the school.
In his first year, Conway had a good number of kids – around 24 – attend his high school basketball camp. But by the time the season rolled around, just 10 went out. As the games began, the roster number shrank to just seven healthy bodies.
Things looked grim, but then the team went to Fullerton.
"We were in Fullerton, and they were pretty good at that time," Conway said. "And a guy named Darren Wright just went off on Fullerton. And we were starting guys that had no business playing varsity basketball, but we found a way to win. The locker room afterwards was just crazy. Those kids came together and played lights out – that was a fun memory I don't think I'll ever forget."
In the 2014-15 season, Conway and his Cougars started slow and were faced with a tough road trip to Twin River – which happened to be Conway's first teaching and coaching job out of college – to play a rated Titans team. Cross County came into that game riding a six-game losing streak, but dug deep and went home with a 46-42 win in overtime.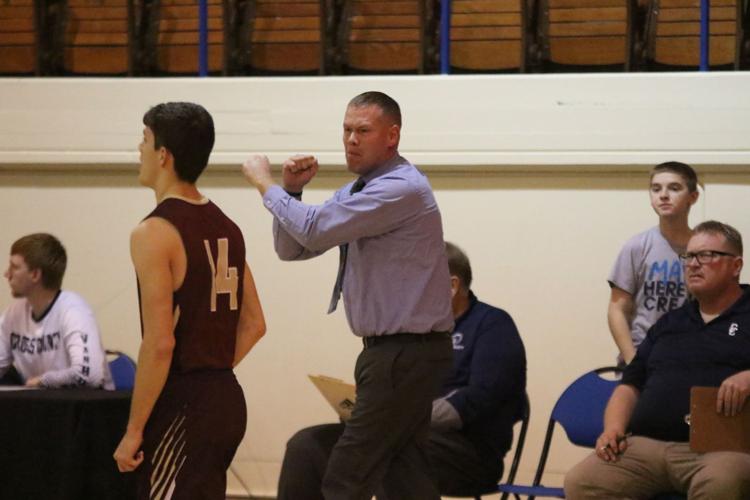 That OT victory seemed to jumpstart the Cross County program as the Cougars finished the season winning 10 of their final 13 games before going 39-12 the next two seasons.
"That was a fun memory because I taught at Twin River and coached at Twin River and knew all the kids and coaches and a lot of the fans," Conway said. "Finding a way to win and break out of that losing streak was a good time."
Cross County's 2015-16 team that went 20-5 holds a special place in Conway's heart. There were no superstars that season, just a bunch of solid pieces that built a well-rounded team.
"That was a group where there wasn't a great individual player, but the sum was better than the individual parts. They played so well together," Conway said.
The 2016-17 Cougars will always be remembered, too. It was the first Cross County boys team to win the Crossroads Conference tournament in school history. The Cougars finished 19-7 that year, and had to get past Bruning-Davenport/Shickley in overtime in the semifinals and Giltner in the championship. BDS and Giltner finished their seasons a combined 38-11.
"We had to beat some really good teams," Conway said of that first CRC title.
Conway wasn't sure how this past CRC tournament would go, though. The Cougars were 8-6 and the No. 7 seed coming into the tournament last January. They hadn't been playing consistent basketball.
"We weren't playing very well coming in to it, and we were relatively young still with our key players," Conway said. "I kind of had an inkling that it might be my last year, so I just enjoyed this one a lot more."
Cross County wound up winning the CRC, with close and dramatic wins over East Butler, BDS in the semifinals and Shelby-Rising City in the championship.
The 2019-20 Cougars and Conway share a special bond. It helps that he's known the kids since they were in first or second grade.
"The relationships were there from working with them when they were youth players, then teaching them in junior high," Conway said. "The relationships with all the kids have been great, and I've had several kids who reached out and said thank you. The longer you coach, that's why you do it – to go see the kids when they're grown up and have their jobs and families and taking the next steps in life.
"To me, that's the fun part right now, seeing where the kids are going and what they're doing with their lives and hoping that you just played a little part in it."
Conway doesn't plan on coaching at Wilber-Clatonia, but that's OK for now. After years and years of doing it, he's a bit burned out.
Of course, he'll miss coaching. Especially the part where he watches his own sons – Jameson, who will be a seventh grader, and Kellen, who will be a second grader – interact with the team behind the bench and in the locker room, like they did for Cross County.
"One of my favorite memories from last year was my youngest son (Kellen) standing at the end of the bench behind us during the CRC finals, and he was just jumping up and down and smiling and clapping," Conway said. "He was super excited and I hope he still gets those opportunities to be a part of the team at Wilber."
Like many coaches, Conway wants to spend more time with his family. The long nights and early mornings as a head coach take away from the time with his sons.
"It's been harder and harder to know that I won't be able to watch my oldest play junior high basketball if I was still the head coach, because we'd have practice and games at the same time," Conway said. "There aren't a lot of opportunities left to really be invested in what they have going on in their lives. So if it meant stepping away from coaching, I was all for it."
In nine seasons at Cross County, Conway recorded an overall record of 121-99.