YORK – With contact sports being allowed to resume in the state starting July 1, the high school football teams in Nebraska can soon get rolling with summer workouts.
Here's a brief look at the schedules for all 10 of the prep football teams in the York News-Times' coverage area:
---
The Dukes are looking to rebound after a 2-7 campaign full of injuries to key players – including starting quarterback Ty Bartholomew and running back/linebacker Jacob Diaz – last season. Bartholomew, who threw for 385 yards and one touchdown while rushing for 259 and two scores before going down with a season-ending knee injury against Hastings in Week 6, is back for his senior season.
York's 2020 schedule features three new teams the Dukes didn't see in 2019 – Ralston, Aurora and Lexington. Ralston was just 1-8 last year while Aurora, which played C-1 ball but is returning to B this season, was 6-3 and Lexington 4-5.
Of the nine regular-season opponents on York's 2020 schedule, seven made the playoffs last year in their respective classes, including Alliance, McCook, Hastings, Grand Island Northwest, Seward and Lexington in Class B and Aurora in C-1.
York opens the season August 28 on the road at Crete.
After winning the 2018 C-2 state championship in overtime over Norfolk Catholic, many wrote off Centennial for 2019 due to its large senior class graduating. But the Broncos didn't listen, and instead racked up another strong season under head coach Evan Klanecky.
Centennial finished 6-4 with a playoff appearance and was led by the uber-talented running back/linebacker Davon Brees and dual-threat quarterback/defensive back Cooper Gierhan. Brees has graduated and is now at Morningside College, but Gierhan is back for his senior season after leading the team in total yards as a junior with 1,795.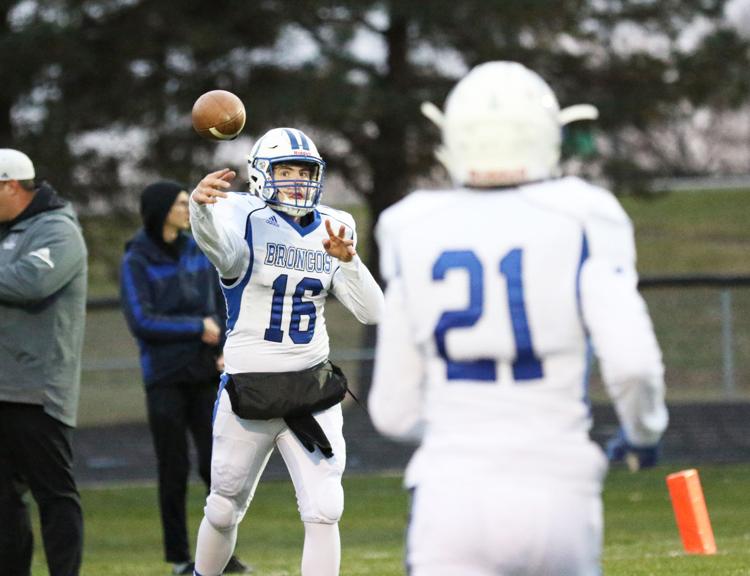 Centennial will see six new teams this fall, including Superior, Grand Island Central Catholic, Bishop Neumann, Wilber-Clatonia, Lincoln Lutheran and Yutan.
Of the Broncos' nine regular-season opponents, four made the playoffs last year – David City Aquinas, Wilber-Clatonia, Yutan and Bishop Neumann in C-1.
With a strong group of starters returning, the Cross County Cougars have the potential to make some serious noise in D-1 this fall. Head coach Hayden DeLano's team finished 7-5 and made the state semifinals last year but fell to the eventual state champ, Osceola/High Plains.
Behind a young and big offensive line, Cross County's run game will be led by two talented ball carriers – Isaac Noyd (1,514 rushing yards with 17 touchdowns) and Carter Seim (1,293 rushing yards, 19 touchdowns).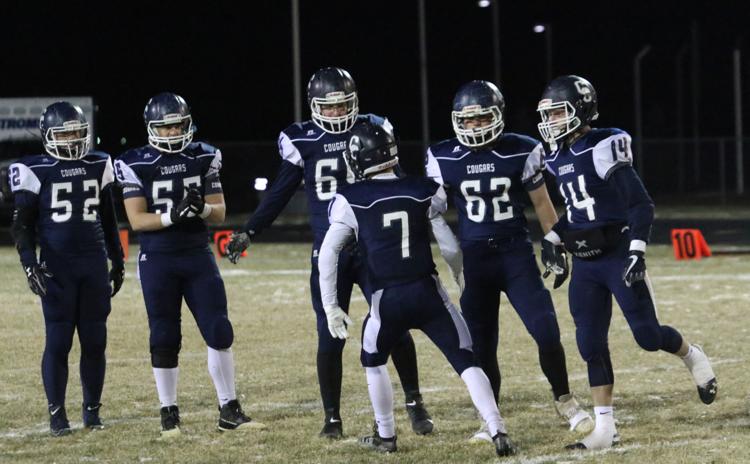 Cross County's schedule is vastly different from last year. The Cougars will see seven new opponents on their eight-game regular-season slate, including Blue Hill, Clarkson/Leigh, Thayer Central, Howells-Dodge, Nebraska Christian, Shelby-Rising City and Humphrey/Lindsay Holy Family.
Six of Cross County's 2020 opponents were playoff-bound last year, including Blue Hill (D-2), Clarkson/Leigh (D-2), Howells-Dodge (D-1), Nebraska Christian (D-1), Shelby-Rising City (C-2) and East Butler (D-1).
The Bobcats will be looking to improve on their 3-5 record from last year. With longtime starter Max Zeleny now graduated, Exeter-Milligan/Friend will need to lean even more on Jackson Beethe – a talented multisport athlete entering his senior season – among others.
The Bobcats will play three teams they saw last year in East Butler, Tri County and Thayer Central. The new opponents for head coach Dean Filipi's team include Conestoga, Shelby-Rising City, Amherst, Heartland and Southern.
Four of those opponents were in the playoffs last year – East Butler, Shelby-Rising City, Tri County and Southern.
Led by the strong senior duo of Jake Stoner and Koby Head, the Fillmore Central Panthers have a leader on both sides of the ball.
A lot of responsibility was given to the dual-threat Stoner last season as he rushed for 1,001 yards and eight touchdowns on 179 carries while also throwing for 449 yards and four scores. Head, a tackle machine, led the defense with 100 stops, averaging 11 tackles per game. Head has been a consistent member of the Fillmore Central defense since his freshman year – he's recorded 220 tackles in three seasons.
Head coach Mitch Lockhart's Panthers have five new opponents this season in Raymond Central, Syracuse, St. Paul, Wood River-Shelton and Adams Central. Both St. Paul and Adams Central made the playoffs last season.
Not a lot went right last year for the Six-Man Hampton Hawks, who finished the 2019 season winless at 0-8. Low numbers on the roster and injuries were a big part of the problem.
The Hawks will play four new opponents this season in Sterling, St. Edward, Stuart and Parkview Christian. Sterling and Heartland Lutheran, which Hampton played last year, both made the Six Man playoffs in 2019.
With the graduation of Jackson Stebbing, the 2020 Heartland Huskies will likely turn to Nolan Boehr and Kale Wetjen to do even more of the heavy lifting on offense. On the other side of the ball, Dawson Ohrt returns to provide a solid piece to the defense – he finished third on the team in tackles as a sophomore with 58.
Heartland finished 2-6 last year in Class D-1 and will see five new opponents this fall, including Madison, Southern, Tri County, Thayer Central and Exeter-Milligan/Friend. Three of the Huskies' opponents this season – Nebraska Christian, Southern and Tri County – were in the playoffs last year.
The Osceola/High Plains Stormdogs are no more. The two-year football consolidation ended after the Stormdogs won the D-1 state championship over Burwell in 2019.
At High Plains, head coach Greg Wood won't have the services of his top two players from Polk – Keaton Van Housen (who will be playing football at the University of Nebraska-Kearney) and Dylan Soule (who will be on the track team at Chadron State College.)
High Plains will compete in D-2 this fall and plays the team it consolidated with – Osceola – in the regular-season finale on October 16 in Polk.
The 2019 season was the best in McCool Junction football history. The Mustangs made the Six Man state championship and finished the season 11-1 with the only loss coming to state champ Harvard.
Head coach Jarrod Weiss will be without his top player Dana Hobbs, who graduated, but the cupboard isn't bare. Talented runner Owen McDonald, as well as the physical 6-foot-4, 245-pound Kaden Kirkpatrick and ball-hawk defensive back Chase Wilkinson, who picked off a whopping seven passes, all return for the Mustangs.
McCool will see four new opponents this season, including Pawnee City, Heartland Lutheran, Parkview Christian and Meridian. Two of the Mustangs' opponents made the playoffs last year in Heartland Lutheran and, of course, the aforementioned Harvard Cardinals.
Following a 2-6 record in D-1 football last year, Nebraska Lutheran heads into the 2020 campaign with a new class – the Knights will be D-2 – and head coach as Benjy Wells has moved on.
Lutheran will need to replace its top passer, rusher, receiver and tackler from last year. Look for Nate Helwig to help out in some of those departments.
The Knights will see a whole new slate of opponents this fall, including Johnson-Brock, Falls City Sacred Heart, Cedar Bluffs, Palmer, Giltner, Osceola and High Plains – which made up the D-1 state champ Osceola/High Plains Stormdogs last season – and Fullerton.