UTICA – After barely missing out on a trip to the state tournament in 2018, the Centennial Broncos did what they needed to do and took care of business in their district final Feb. 25 against Elmwood-Murdock with a 52-48 win in Crete.
The last time Centennial qualified for state was in 2017, but the Broncos had a short stay as they fell in the first round to the eventual state champs from Ponca.
This time around, Centennial is hoping to stay in Lincoln a bit longer. To do that, the Broncos will need to get past the Wakefield Trojans, who enter the tournament 10-1 in their last 11 games. Wakefield is 20-3 and the No. 5 seed of the C-2 bracket while Centennial is 23-2 and the No. 4 seed.
Wakefield's three losses have come against teams that are in the state tournament, including Ponca (C-2), Bancroft-Rosalie/Lyons-Decatur (C-2) and Osmond (D-2).
"Obviously we didn't know a lot about them, with them being so far up north," Centennial head coach Cam Scholl said when asked what his initial thoughts were when the brackets were officially released. "But once we figured it out on Monday night who we would be playing, at first glance they are a really good basketball team."
The biggest threat Wakefield might have is 6-foot-6 senior Solomon Peitz, who leads the Trojans in average scoring (15 points per game), rebounding (8.5) and assists (2.5).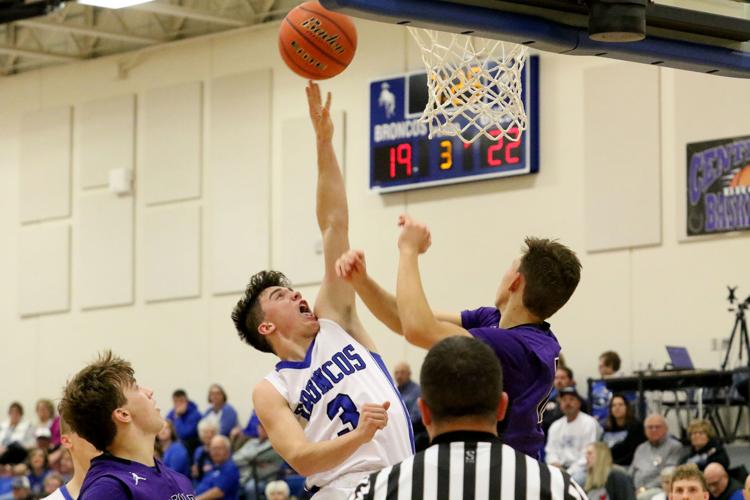 According to Scholl, Peitz has shown an ability to score from all over the floor and, when necessary, find the open man when he gets double-teamed. Expect Centennial's main paint defender, 6-3 junior Joel Bargen, to take on the challenge of guarding Peitz.
"Their post player, Peitz, is good," Scholl said. "He can score from all three levels and rebounds the ball really well. They also have a guard, Blake Brown, who's really dangerous if he gets a good look at the basket. And there other guys that are very capable scorers as well."
Brown is a 5-9 sophomore guard who's averaging 8.7 points and 1.5 steals per game. Justin Erb, a 6-3 sophomore, is pouring in 11.2 points and 6.6 rebounds.
Wakefield's inside game is the strength of its offense, according to Scholl. So Centennial fans should expect a lot of entry passes to the bigs Thursday night.
"They do a great job of playing off of their big kid inside," Scholl said. "He's a really good passer out of double teams, and their other guys are good enough to make you pay if you over help. They do a lot of scoring around the basket and get a lot of kick-out 3s, especially for Brown."
Defensively, Wakefield will likely try to solve the problem Jackson Hirschfeld presents with a solid man-to-man approach. Hirschfeld, a 5-10 Concordia University basketball pledge, is the Broncos' motor, averaging team highs in points (20.6), rebounds (5.9) and steals (2.2).
"They play good man-to-man defense," Scholl said. "They rebound the ball well and are probably one of the best teams I've seen all year at sliding in and taking charges."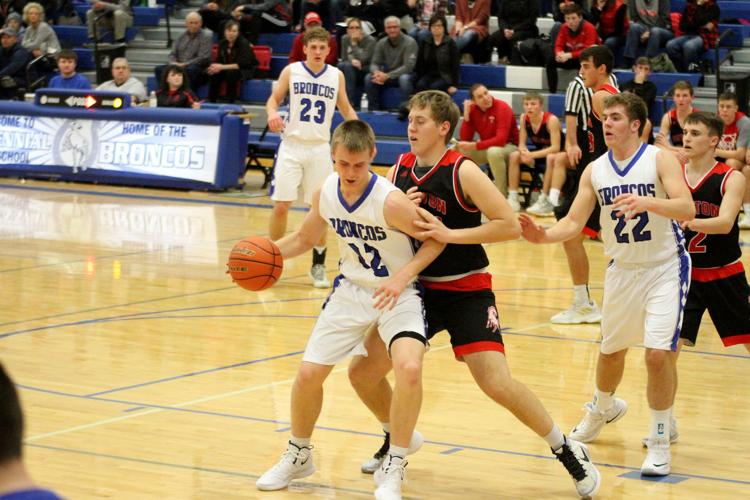 The Broncos, who aren't a tall team with the 6-3 Bargen being the tallest rotation player, enter Thursday averaging 58.6 points per game while its defense is holding opponents to 39.9. Wakefield is averaging 53.2 points and allowing 42.8.
Outside of Hirschfeld, sophomore sharpshooter Cooper Gierhan is averaging 13.6 points, 3.7 rebounds and is shooting 45 percent from 3-point range (49 of 109). Junior Caleb Horne is pouring in 8.8 points and three rebounds while freshman Jacob Bargen provides a spark off the bench, scoring 6.6 points to go along with solid defense.
Scholl said there isn't really an obvious area in Wakefield's defense where the Broncos can attack.
"When you get to this point everybody is pretty good, so I'm not sure if there is anything we necessarily can take advantage of," Scholl said. "We just need to focus on what we do well, and take what they give us."
The game between Centennial and Wakefield is scheduled for an 8:45 p.m. tip Thursday night at Lincoln Northeast High School.