SYRACUSE — The Centennial Broncos football team was one game away from an undefeated season and a Class C-2 state championship last November.
The final game of the 2017 season for Centennial didn't go its way, but the first game of 2018 did — and in a dominating way by shutting out Syracuse 44-0 on the road Friday night.
The Broncos didn't waste any time getting to work.
Centennial took its opening series of the game down the field on an eight-play, 65-yard touchdown drive that featured seven runs from senior Ian Schlueter and a 5-yard scoring plunge from senior Haden Richters.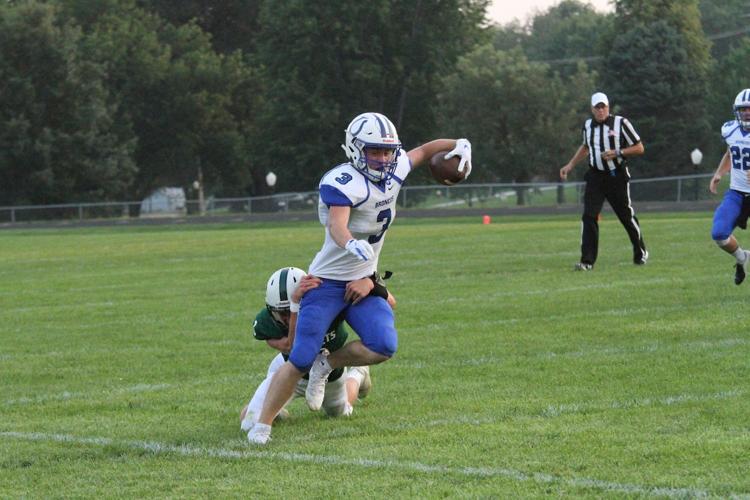 Much of those runs were the same play — just how head coach Evan Klanecky wanted it. The Broncos' offense didn't show too much Friday night, and it didn't need to.
"We wanted to come out and stay fairly vanilla if we could and we did that," Klanecky said after the game of that first drive. "I think we only ran three different run plays all first half. We stuck to our bread and butter. We wanted to run the ball and we thought coming into the game that was going to be our strength against their D-line, and we did it."
Centennial's defense did its job all night as well, and forced multiple three-and-outs by the Syracuse offense, which was a mixture of double wing and triple option from under center. The Broncos held the Rockets to just 79 yards of total offense.
"The defense really did well. When people pull guards against us it really plays into our strength," Klanecky said. "Our D-line is very good at reading guards and following guards. We did a good job of keeping them in the pocket and I thought did a really good job on the triple option. When Syracuse had success last year, it was on that triple option play out of double wing. So it was a good job defensively of just doing our job."
With the defense getting stops, that produced more opportunities for the offense — opportunities it used.
With the run-game clicking, that opened more room to operate for the Centennial passing game led by senior and four-year starting quarterback, Wyatt Ehlers.
In one half of play, Ehlers went 11 of 12 for 151 yards and four touchdowns — two each to senior wideouts Jackson Hirschfeld and Max Tomes.
With the first units playing just the first half, Centennial ended the game with 356 total yards. The Broncos passed for 222 and ran for 134.
Hirschfeld led the receivers with seven catches for 95 yards and two scores while Tomes had three for 35 and two touchdowns.
Schlueter ran for 67 yards on 12 carries while Richters had 35 and two scores on five touches.
"That seems to be the biggest test of week one — can you get off the ball and go until the whistle blows," Klanecky said of season openers. "And we did that and executed and scored on every drive. That was kind of our goal was to play them for a half here and they got the job done."
Centennial will host Malcolm next Friday night in Utica.
Centennial (1-0) 19 19 6 0 — 44
Syracuse (0-1) 0 0 0 0 — 0