HAMPTON — The Hampton Hawks volleyball team hosted a triangular with the Cross County Cougars and Shelton Bulldogs Tuesday night, and it was the Cougars that rolled to 2-0 wins in both their matches.
Cross County picked up the win over Hampton behind scores of 25-17, 25-19 and beat Shelton with marks of 25-19, 25-10. The Cougars improved to 15-10 with the wins and will travel to Daykin Thursday to compete in the Meridian Invite along with Giltner. Giltner (15-5) is No. 10 in the Omaha World-Herald's Class D-1 ratings.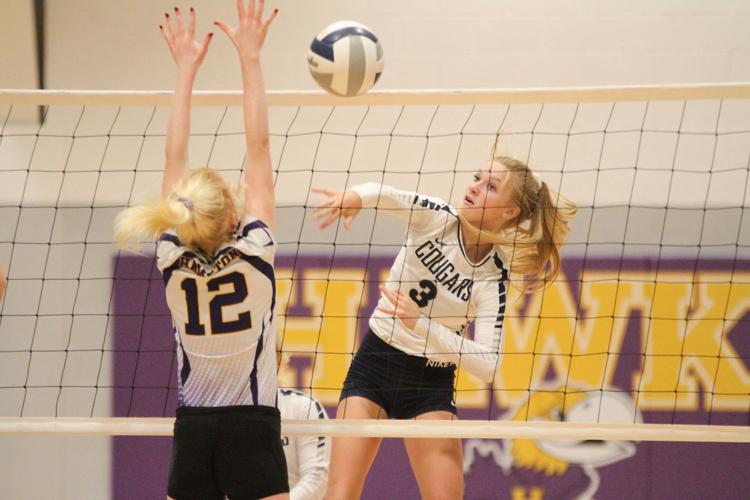 Hampton went 1-1 in its triangular. The lone win was a 2-0 victory over Shelton with scores of 25-13, 25-22. The Hawks move to 14-10 on the year and will host Nebraska Lutheran (1-21) on Thursday.
Unofficially, Cross County got 12 kills in the Hampton match from its top offensive player, sophomore Cortlyn Schaefer. She connected on four in the first set and eight in the second.
Hampton was paced by senior and Bellevue University volleyball pledge Jacey Klassen, who racked up nine kills — six in the first and three in the second.
The two teams went back and forth in the first set until Cross County was able to pull away at the midway point. With Hampton trailing by just one point, 14-13, the Cougars called a timeout. Cross County responded well out of the break and pushed their lead to 18-13 behind three Hawk errors and a kill from Cougars' senior Morgan Stratman.
Stratman connected on another kill and a block to give her team a 20-13 advantage before Klassen stopped the run with a kill for Hampton.
More errors into the net from the Hawks followed to seal the win for the Cougars.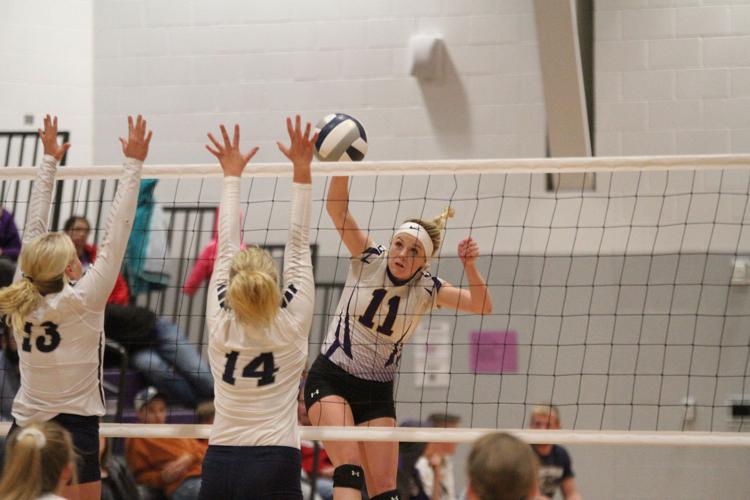 In the second set Cross County shot out to a 4-0 lead thanks to two kills from Schaefer and an ace serve from junior Amanda Giannou.
Hampton cut its deficit to just one point again — this time at 7-6 — but like the first set, the Cougars responded to pull away with the win.
Cross County went on an 8-3 run that gave it a 15-9 advantage. During that stretch, six-foot sophomore Erica Stratman had two blocks while Schaefer added two kills. The Hawks were forced to call a timeout afterwards.
"We did some really nice things, but they're way taller than us," Hampton head coach Diane Torson said after the match. "And that put a lot of pressure on us. We don't match up blocking-wise with a couple of their girls. But we made it difficult for them to score some points. I'm happy with how we played."
Cross County continued to step on the gas after the break. Erica Stratman, junior Savannah Anderson and Schaefer all recorded a kill that helped the Cougars gain a 20-14 lead.
That deficit was too large for the Hawks to overcome as they fell in two.
Cross County (15-10) 25 25 — 2
Hampton (14-10) 17 19 — 0