SIOUX FALLS, S.D. – With an upcoming invite this Friday that will give runners an idea of how they compare against others in the landscape of Class B cross country, the York Dukes competed in great tune-up races at the annual Augustana Twilight Meet in Sioux Falls, South Dakota last Friday.
"The atmosphere at the meet is unmatched. It is always a great meet for the athletes and the best competition most athletes will face all year," York head cross country coach Eric Rasmussen said.
Augustana was the final race before this Friday's meet in Aurora, which will serve as a great litmus test of how the Dukes size up against others in the Class B field early in the season. Rasmussen said his team is looking forward to it.
"We will face a lot of teams from our conference and our district," he said of this Friday's meet. "It should be a good indicator of how we stack up early against those competitors at this point in the season."
In Sioux Falls, the Dukes had runners spread out in four separate races. Three boys – Dean Erdkamp, Jake Schmid and Anthonie Gomez – ran in the 5K. Erdkamp had the best finish of everyone on the team, placing 55th out of 252 competitors with a time of 17 minutes, 7.89 seconds.
"Dean Erdkamp was our top runner as expected. He improved his performance from last year, but didn't necessarily run as well as he is capable of running," Rasmussen said. "He really struggled with his breathing."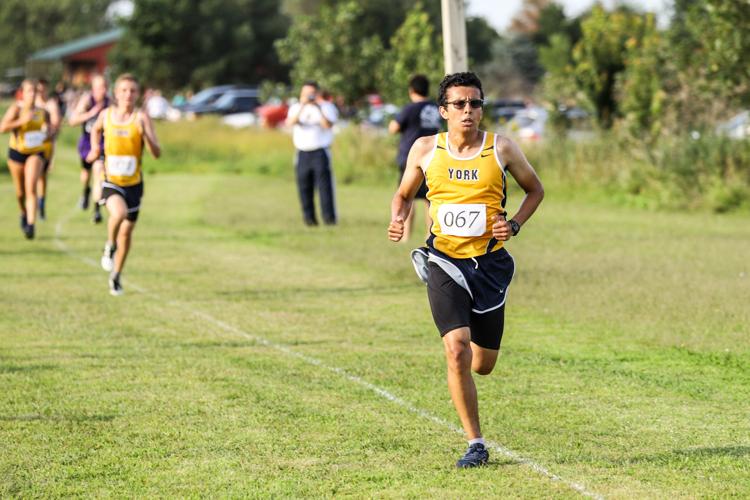 Schmid ran an 18:09.43 (131st) while Gomez crossed the finish line in 19:02.08 (199th).
"It was an extremely competitive race against a lot of the top teams from many states," Rasmussen said.
York's Colin Pinneo, James Bonde, Jackson Schmid, Gabe Zarraga and Trent Ellis were all in the 4K race, which had 389 runners. Pinneo was 10th with a 14:26.13 while Bonde was 19th in 14:43.78. Jackson Schmid ran a 14:58.09 (31st) while Zarraga had a 15:50.57 (98th) and Ellis a 16:55.01 (196th).
"Colin Pinneo had a great race. He has a bright future ahead of him," Rasmussen said. "James Bonde and Jackson Schmid also ran well."
On the York girls' side, Lindsey Stuckey, Violet MacLean, Chloe Holmes, Kylee Kling and Megan DeHart all ran in the shorter 4K race, which was 261 runners strong.
Stuckey clocked in at 19:04.3 (63rd) while MacLean had a 19:10.49 (66th), Holmes a 20:13.04 (125th), Kling a 22:36.05 (218th) and DeHart a 22:37.64 (219th).
"Lindsey Stuckey was our top runner on the girls side. She will continue to improve as the season progresses," Rasmussen said. "Violet MacLean ran really well today. She was the biggest surprise for our team and has the potential to be a really good runner in the future."
Varsity action at the Aurora Invite on Friday starts with the girls' race at 4:15 p.m. at the Aurora Country Club.