YORK – Natalia Dick had a change of heart.
When she was younger, the York senior wanted to go to college and play basketball in a larger town than the one she grew up in. But over the years, the countless memories and experiences as a York Duke piled up. That's when the feeling shifted.
"Part of me has always wanted to go to a bigger school, bigger setting. But as I've gotten older, especially through my junior year, I just kind of thought I can't go away from the York community," Dick said last Friday at York High School after she signed her letter of intent to continue her education and play basketball at Hastings College. "The community of this town is so amazing and so involved that I don't think I could go somewhere bigger where I won't have that."
In the offseason Dick narrowed her college basketball choices to Hastings and College of Saint Mary in Omaha. Hastings was on her early, though, and Broncos' head coach Jina Douglas had been over to see some scrimmages in the summer. That made the difference for Dick, who was also impressed with what Hastings offered academically.
Douglas' coaching style is another reason why Dick chose Hastings.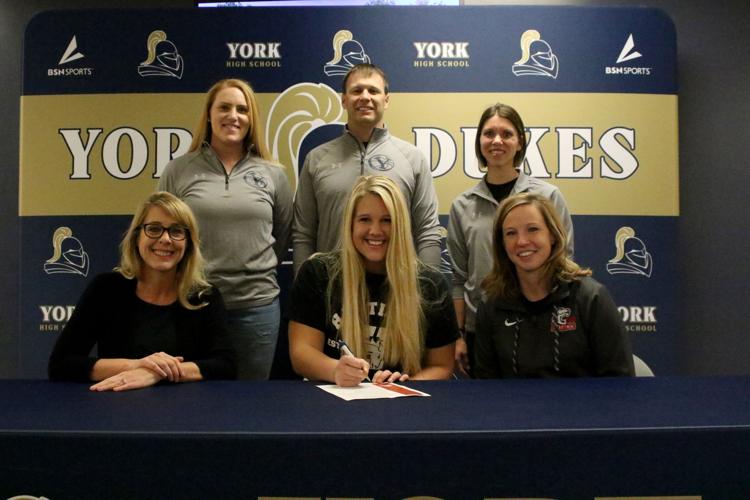 "I love her fire and heard great things about how she coaches," Dick said of Douglas. "It's hard at times where she can get on you, and that's what I kind of like. I like it when they tell me what I need to do and get a little feisty with me, because I respond to that really well. She also knows how to back off a little bit and have some fun, which is what Coach (Matt) Kern does too, and I really respect him as a coach. She does the same things."
Dick, a 6-footer who averaged 10.4 points and 7.7 rebounds per game as a junior, brings a combination of traits to the court. Douglas likes that she's a true post player with size, physicality and strength. Dick also comes from a program that Douglas, who coaches former Duke and current Hastings College senior Emma Grenfell, respects.
"Coach Kern does a great job here. York always has good players, so it's always fun to watch them play," Douglas said on Friday. "I like their style of play anyway, so we'll definitely come a couple times a year to see them play."
That style of play means toughness and man-to-man defense. Much like what Hastings College does. Players that play man in high school will likely have a smoother transition to college ball than players who play a lot of zone.
"When the players come in, they already know man principles," Douglas said. "If you get a kid who plays zone throughout their high school career, I'm not saying they can't switch over, but it's just a little bit different. I think Coach Kern does a great job and teaches them a lot of stuff, and they come in ready to go."
The upcoming season will be a special one for Dick, who wanted to get her college decision out of the way before the first game on Dec. 5 at Ralston. She knows she'll be shouldering the load in the post for the Dukes and be the team's leader on and off the court as the only senior.
"I want to focus on my team and the girls this year," Dick said. "I want to leave knowing that I gave what I could to the program to keep it going the way it's going. What girls have done in the past to me, I want to leave that there too."
Dick wants to make the state tournament to give the younger players on the team that experience, just like former players Tayte Hansen, Jenny Kadavy, Kennedy Mogul, Lauren Riley and Carsyn Zumpfe did for her. Because playing in the state tournament is simply a different vibe.
"I loved the feeling and I want the other girls to feel it too," Dick said.
"She has meant a lot to our program," Kern said. "Natalia told me a long time ago that she wanted to play college basketball and now she gets to fulfill that dream. She has really grown as a player and person. I love her passion and her desire to excel as a basketball player."
As the only senior, Dick's leadership will play a big part this season for the Dukes, who are looking to rebound from last year's 10-13 record.
"She understands the importance of being a senior that the younger players can look up to and learn from," Kern said. "Her teammates selected her as one of our captains earlier this year."
Falling short of making the state tournament last year hurt inside according to Dick, who experienced that during her freshman and sophomore seasons. Going into the 2019-20 campaign, the goal is to be playing the best basketball at the end of the year, when it matters the most.
"This year we all have the common goal of getting to state and playing as well as we can to win it," Dick said. "Having our expectations high, and knowing that every single day we're going to practice and working, we're going to get better, we're not going to sell ourselves short. We're just going to work as hard as we can every day in practice and every game to get to where we want to be."