GENEVA, Neb. – After a school-record 1,066 career kills, it's safe to say senior Halle Theis left her mark on the Fillmore Central volleyball program.
At a signing ceremony Wednesday afternoon at Fillmore Central High School in Geneva, Theis, a big-hitting 6-foot, four-year starter, signed her letter of intent to play volleyball at Regis University in Denver, Colorado. Multiple schools were after Theis, including the University of Nebraska-Kearney and North Dakota among others, but it was Regis where she felt the most comfortable continuing her academic and athletic career.
A couple trips to the school's campus, and practices with the Rangers team last fall helped seal the decision for her.
"It really stood out to me," Theis said of Regis. "I just had a feeling and knew it was the place."
Regis, which made the Final Four of the 2017 NCAA Division II national tournament, is enjoying another strong season this year at 23-3, and as of Thursday sits at No. 8 in the AVCA Division II Coaches poll.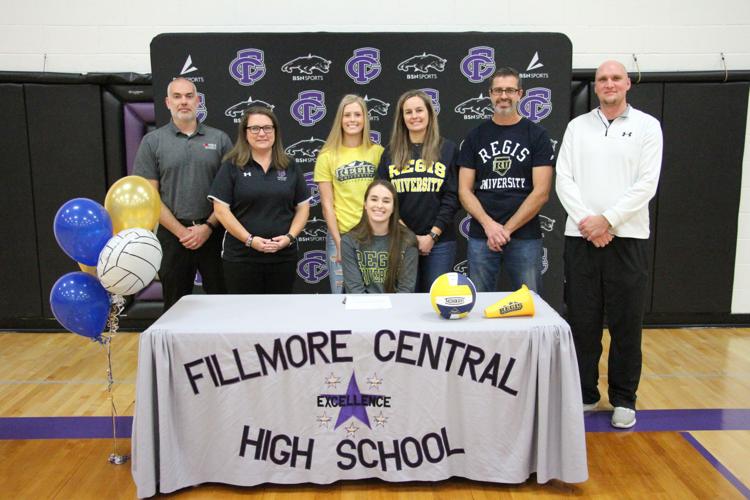 Theis' goal while at Regis is to be a six-rotation outside. Hitting is where her heart is. That makes sense, too, because her high school coach, Dawn Temme, said that's one of her best attributes as a volleyball player.
"Halle is a great hitter. When we needed a kill, she was the first person we went to," Temme said.
But Regis may need her to chip in as a middle at times. Theis is cool with that. She can do different things to help out the team – Theis had 847 career digs, so she can play some defense in the back row, too – just like she did in her senior year for Fillmore Central.
"She put the team first. After a few early losses, we chose to move her from the outside hitter position, which is where she will be in college, to the middle hitter spot," Temme said. "Halle accepted her new role and really worked hard at it."
As a team captain, Theis was a leader on and off the court. She used her high volleyball IQ to support teammates when needed.
"In practice, she was a player the younger girls looked up to," Temme said. "She was always available to help out when they had questions and she shared her knowledge of the game to help them get better."
Being on top of the mental side of the game is something Theis works hard on. She says it's one of the best traits she has on the volleyball court.
"I study the game and I think I understand a lot of the things technically that others might not, which isn't an athletic skill, but I think it sets me apart because I understand where the ball is going to be," Theis said.
Coming into the program as a freshman in 2016, Theis admitted it was challenging. She and her classmate, Macy Scott, were thrown into the fire right away and started. Things began changing for the better once the young core gained experience.
Now, after her senior season, Theis can look back at her four years and say she's proud of the legacy she and her classmates left at the program.
"The next year we got better, and in the last two years we've done way better than what I could've hoped for," Theis said of volleyball career at Fillmore Central. "I think we've really started to build a program here and we're starting to get underclassmen more involved, which is really good. Before we got here, I'm not sure that was really happening so much."
Theis' strong work ethic helped build the program to where it is now. That includes off-the-court activities, like lifting and school work. Theis is pretty good in those areas, too.
"She was in before school lifting weights, and stayed after practice to help other players get better," Temme said. "Her leadership isn't only on the court, but in the classroom too. She has a 4.0 GPA and is ranked No. 1 in her class, which she used to help any of the other girls out if they needed help studying for a test, or an assignment they needed help on."
This past season was the final time Theis will play high school volleyball with her sophomore sister, Lexi, who also happens to be a pretty good player herself.
"It was really fun. It's something I wish I could keep doing," Theis said about playing with Lexi.
It won't be the last time the two will play with one another, though. Both Halle and Lexi are key parts to a Fillmore Central basketball team that returns all five starters from a year ago, when the Panthers placed fourth at the Class C-2 state tournament.