YORK – The York Fusion 18-U softball team hosted both the Aurora Impact and the Columbus Pinnacle Bank Bullets in action at the York Ballpark Complex on Thursday night.
On the eve of the Summer Slam Tournament which gets underway tonight with games in all five divisions, the York was looking to get its bats tuned up against the Impact in the first game.
York sprayed nine hits all over the field, including five extra base hits and rolled to the first game win of 10-0 in 3 ½ innings.
After Impact starter Rylee Olson walked Emma Ziemba to lead-off the game, she was able to get back-to-back pop outs to keep Ziemba at first base.
Clean-up hitter Hannah Norquest belted a run-scoring double followed by a mis-played single that turned into a triple for Lilly Cast and a 2-0 lead.
In the meantime on the mound, Alexis Linder sat down the first seven batters with only one reaching base, that on a walk to lead off the second.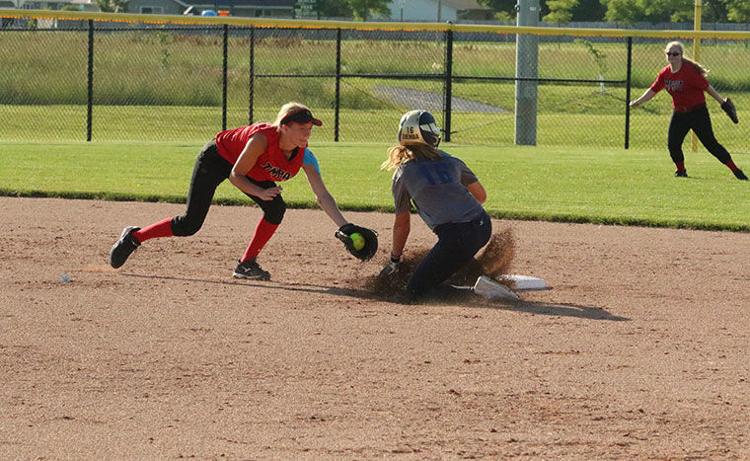 York's bats were quiet in the second inning as the Fusion went down in order.
In the bottom of the third, York would settle the issue as they scored eight runs on seven hits to open a 10-0 lead.
In the inning, Ziemba singled, followed by a one-out, run-scoring double off the bat of Abbey Seevers to make it 3-0.
Seevers scored on Norquest's second hit, followed by a double from Lilly Cast to make it 5-0.
The Fusion was just warming up as Jamie Hoblyn singled in a sixth run and a Kaitlyn Martin single and a fielder's choice set the table for the big blow of the frame.
Catcher Bailey Robinson ripped a three-run double over the Aurora center fielder's head to make it 9-0 and Robinson scored on a groundout and an error.
Linder only allowed one hit and that came in the fourth inning when the Impact loaded the bases with one out but could not score.
A short fly-out to left field which Norquest made a nice running catch on and a ground out to third base ended the game via the 10-run rule.
York finished with nine hits as Norquest and Cast were 2 for 2 with two RBIs each and Robinson was 1 for 2 with three runs batted in.
York stranded just one base runner while the Impact left four runners on base.
The Fusion and Columbus Bullets played the late game after the Bullets and Impact completed the middle game.