YORK – Eleven student-athletes from the York News-Times' coverage area were selected to the All-Crossroads Conference boys basketball team that was released earlier this week.
High Plains' junior guard Keaton VanHousen was the only area athlete on the first team that also included Shelby-Rising City senior Austin Coffin and junior Jett Pinneo, Giltner senior Dayne Hinrichs and East Butler junior Jaden Rhynalds.
Although High Plains struggled for most the season and ended with a record of 5-15, VanHousen, a 6-foot guard, stuffed the stat sheet nearly every night for the Storm. He averaged team highs in points (18.4), rebounds (8.5) and steals (1.6) per game.
VanHousen recorded a double-double in five games during the year and had a season-high 33 points in a win over Dorchester on Jan. 11. He scored 25 or more points in six games this past season.
Four area players found their names on the second-team list, including Cross County's Grant Hollinger and Cael Lundstrom and Exeter-Milligan's Spencer Pribyl and Max Zeleny.
Exeter-Milligan, which went 21-5, earned a Class D-2 state tournament berth. Pribyl and Zeleny, as well as Jackson Beethe, an honorable mention pick, were important parts to the Timberwolves' squad.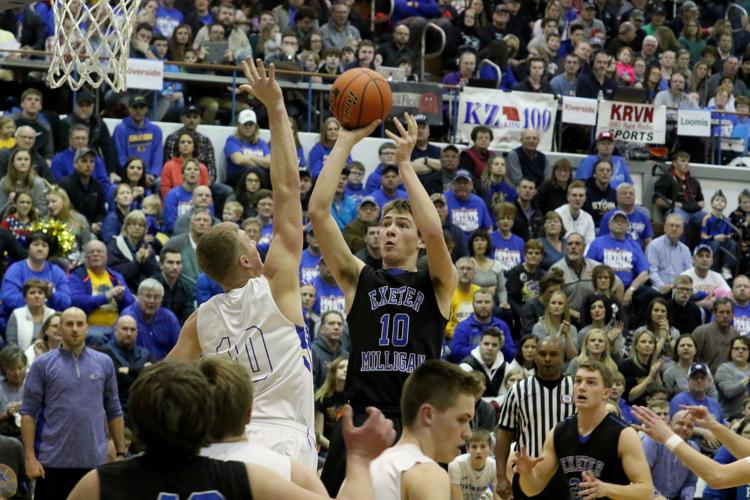 Going into the tournament, Pribyl, a 6-4 senior, averaged 9.9 points and eight rebounds per game while Zeleny, a 5-9 guard, did a bit of everything as he recorded 9.7 points, 6.2 boards and a team-high 5.4 assists per outing. Beethe, a 6-1 sophomore, came off the bench to give the Timberwolves a different look and poured in a team-high 15 points per game and 4.4 rebounds.
Cross County went 14-11 on the season and was led by Lundstrom and Hollinger.
Lundstrom, a 6-1 junior guard, averaged team highs in points (11), assists (1.8) and steals (1.8). Lundstrom was also a solid free-throw shooter, making 80 percent (68 of 85) of his attempts, and shot 33 percent from 3-point range (57 of 173). He scored 15 or more points in four games this season. Lundstrom's season-high of 19 points came against High Plains on Feb. 2 and Heartland on Jan. 5.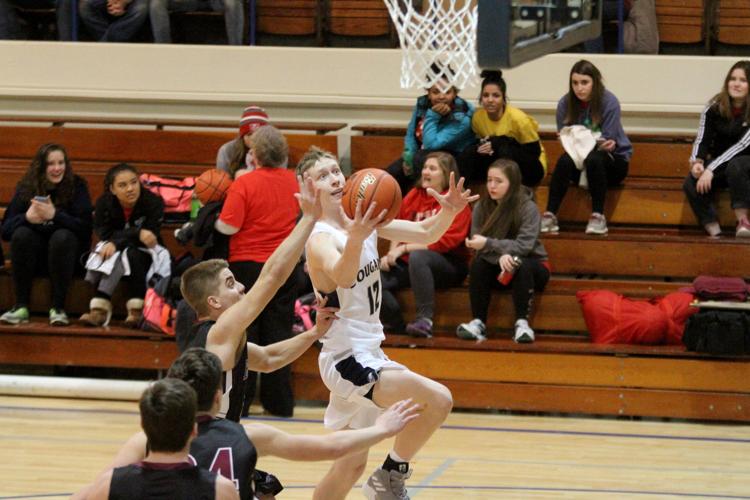 Hollinger, a 6-3 senior, averaged 8.5 points, two rebounds and 1.5 assists per game. He scored 10 or more points in seven games and had a season-high 19 points in a win over Dorchester on Jan. 19. That night, Hollinger shot 73 percent (8 of 11) from the field.
Six area student-athletes were named honorable mention, including three from Nebraska Lutheran – seniors Roam Thiluang, Jiokow Wool and junior Zach Richert – one from McCool Junction – junior Dana Hobbs – and one from Hampton in senior Brady Klute.
Here are the full lists of All-CRC teams:
First Team CRC: Dayne Hinrichs, senior, Giltner; Jaden Rhynalds, junior, East Butler; Austin Coffin, senior, Shelby-Rising City; Jett Pinneo, junior, Shelby-Rising City; Keaton VanHousen, junior, High Plains.
Second Team CRC: Rody Lyon, junior, Giltner; Cael Lundstrom, junior, Cross County; Grant Hollinger, senior, Cross County; Max Zeleny, junior, Exeter-Milligan; Spencer Pribyl, senior, Exeter-Milligan.
Honorable Mention CRC: Garrett Klipp, senior, Meridian; Logan Schroeder, senior, Bruning-Davenport/Shickley; Dana Hobbs, junior, McCool Junction; Roam Thiluang, senior, Nebraska Lutheran; Max Hoatson, senior, Shelby-Rising City; Jackson Beethe, sophomore, Exeter-Milligan; Zach Richert, junior Nebraska Lutheran; Jiokow Wool, senior, Nebraska Lutheran; Nolan Weber, junior Bruning-Davenport/Shickley; Brady Klute, senior, Hampton; Carter Boden, junior, Osceola; Nathan Cochnar, senior, Dorchester.