YORK – T-right, 16 counter. Ty Bartholomew remembers the play well.
Back on October 4 of last year, on a wet and misty night in Hastings, Bartholomew, then York's quarterback, kept the ball on a triple-fake action in the backfield and got about 5-8 yards before getting tackled from behind, then from the front. His right leg folded a bit underneath his body.
"It was very painful. Right when it happened I thought it was definitely an MCL or an ACL," Bartholomew said. "But once we got it checked out, it was just a bruise on the tibia."
The bruise turned out to be the size of a golf ball, however. Many trips to Lincoln for physical therapy to help the swelling go down were made after that night, but the injury ultimately put an early end to Bartholomew's junior season, leaving the Dukes without another dynamic runner in the backfield. The team had also lost its senior running back, Jacob Diaz, to season-ending injuries, too.
But that game, that season and that injury are all in the past. Now, the 5-foot-11, 188-pound Bartholomew is patiently waiting for his senior campaign to get here. He's excited about it, because once fall practice starts he'll be taking first-team reps at running back, a position change he welcomes.
"I'm not gonna to lie, I'm not the most skilled passer out there," Bartholomew said. "But I'm excited about the move to put me back there because I can maneuver my way to the hole and get yards for the team."
Bartholomew completed 53 percent of his passes (41 of 76) for 385 yards and one touchdown in six and a half games last year before going down with the season-ending injury. He also rushed for 259 yards and two scores and provided a dual-threat option in the backfield.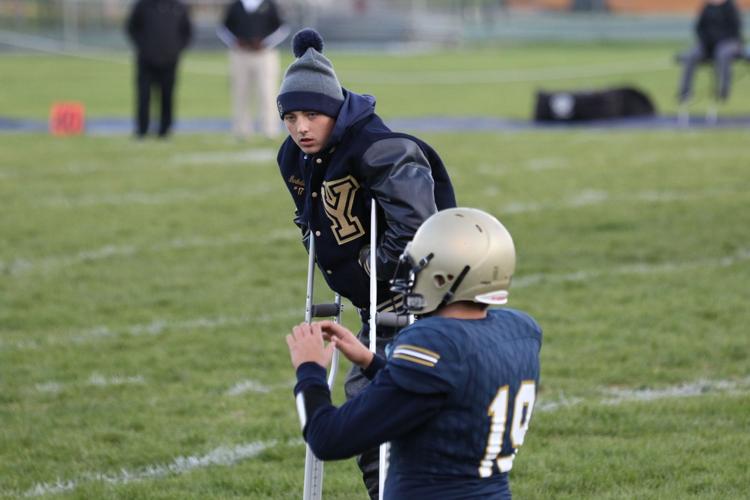 After Bartholomew went down in Hastings, his classmate, Jake Erwin, replaced him and performed admirably. So much so, that head coach Glen Snodgrass made the decision to switch the two for this season – Bartholomew to running back and Erwin under center.
When asked if he had any goal for the upcoming season, Bartholomew didn't mention an amount of rushing yards or touchdowns. Instead, he focused on the team.
"I just want to be a big impact. I want to help the running game for my team," he said.
Last season York's offense averaged just 212 total yards per game with 145 coming on the ground. The year before that, the Dukes racked up 405 total yards with 251 rushing in a year that took them to the state semifinals. The graduation of a school record-breaking senior class understandably had a lot to do with the drop-off in production, but Bartholomew and his teammates want another chance to prove themselves.
Bartholomew has been taking his offseason seriously. He's been training with Ben Samani at Midwest Sports Performance in Lincoln and he's seeing results he wants.
"I feel like my body is in the best shape it's ever been in. He's (Samani) helped me so much with knee stability, speed and agility, and everything that a player would ever want and need to be in the best shape that they want to be in for the sport they play," Bartholomew said.
Bartholomew would jump at the opportunity to play college football if given a shot. A handful of schools have already contacted him and will be keeping their eye on him this fall.
"It would be an honor to play college football for any school really," he said.
Bartholomew's summer has been a busy one. He's working at a farm near McCool Junction where he's been spraying crops and laying pipe. When he's not doing that, he's working in the weight room at York High School.
"It's really good to see all my buddies. I haven't seen them in a while," he said of finally being able to get back into the weight room. "But just getting back in that football groove has been a really amazing feeling."
York football's seniors had a group call together where they talked about their mindset heading into the season and how they want things to go. They're all on the same page.
"We want our final year of football to be our greatest, so we all just want to do the best that we can absolutely do," Bartholomew said. "It's time to get rolling again."