HAMPTON – If one happened to catch a Hampton Hawks volleyball match during the last four years, it'd be hard not to notice Jacey Klassen.
The senior is full of energy, and isn't afraid to show emotion on the court. Klassen erupts in celebration after nearly every point and does the same when a teammate records a kill or a big block.
On Friday morning in the gym of Hampton High School, Klassen made her future plans official by signing her letter of intent to continue her education and volleyball career with Bellevue University.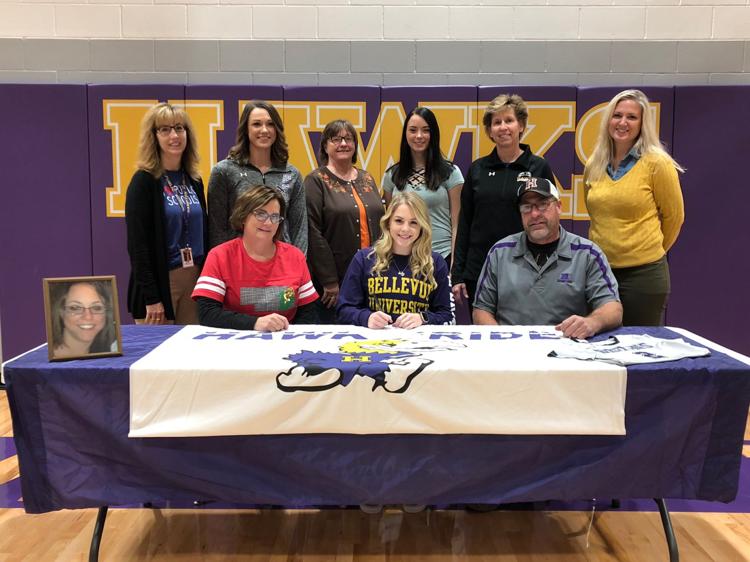 Klassen's decision came down to two schools – Bellevue and Concordia University. But the relationship with Bellevue head coach Trish Siedlik, who had an eye on Klassen for around a year, made it an easy decision.
"She (Siedlik) was more of a, 'I can see me playing for her for the next four years,' because being close with the coach is really big for me," Klassen said after the signing.
Klassen's energy on the court and enthusiasm for the game of volleyball was a big part of why Siedlik wanted Klassen on her team.
"She's just so fun to watch. She's a little spitfire out there," Siedlik said. "She's not going to let her team give half effort – it's going to be full effort or nothing from her."
At 5-foot-2, Klassen will never be the tallest player on the court. But she can do everything taller players can do. At Bellevue, she'll start in the back row, which is a switch from the front where she played her high school career.
"I know we had talked about the concern of playing front row," Siedlik said. "At our level, it's a little bit hard for the blocking part of it. But with her defense, her passing, her speed and her attacking out of the back row, it's something we're definitely excited about."
Klassen's 779 carrer kills rank fifth in school history. Her 349 single-season kills are ninth and 129 career ace serves are 10th. Klassen is also tied with three others for most aces in a match with 10.
Those are big numbers for a small player. Does being 5-2 put a chip on her shoulder?
"It does," Klassen said. "People look at me and they're like, 'Oh, why do we have to watch out for No. 11? She's 5-2,' but people definitely look at me like, 'Why are you so good.'"
Winning state her sophomore year was a major highlight of Klassen's career. It taught her a lot. She used those lessons as a senior leader this year.
"I definitely knew what it took to win. That was the biggest thing," Klassen said of the lessons learned during her sophomore season. "I took that for my next two years of high school, telling the girls I know what it takes to win, let me help you experience that because it's one of the coolest things I've ever felt."
Klassen is a three-sport athlete, competing in volleyball, basketball and track. She's a state qualifier in the long jump.
Hampton head coach Diane Torson knows first-hand what a player like Klassen can do for a young team. Despite her size, Klassen possesses traits every coach would want.
"Jacey is so full of energy. She brings excitement, enthusiasm and fun to the court," Torson said. "She has a great knowledge of the game. Athletically, she is quick and explosive. She is an outstanding hitter. She always had to hit against girls that were much taller than her. Her serve often put our opponents out of system.
"Jacey, along with the other three seniors, did an outstanding job of leading this team. Their theme was 'Better Together.' Jacey was a big part of our team being 'Better Together.'
Torson is a big reason why Klassen wanted to keep playing volleyball in college.
"Me and Coach Torson are pretty close," Klassen said. "She's done a lot for me. She's always made sure that I know that I'm completely capable. So that's a huge part of why I'm continuing my volleyball career."