MCCOOL JUNCTION- One of the biggest shots of Thursday night's opener between the Cross County Cougars and the McCool Junction Mustangs came with 6:45 to play in the game.
The next one came with 2:10 on the clock, both long 3-pointers from the Mustangs JJ Mertz and Sydney Siebert.
Cross County had kept things close, but the two 3-pointers opened the McCool girls' lead to 37-28 and the Mustangs went on to the 41-28 win in girls Crossroads Conference action.
McCool Junction opened a 12-4 lead at the end of the first quarter behind seven points from sophomore Kierra Green.
Cross County used their height in the second quarter to draw within 16-14 as 6-foot sophomore post Erica Stratman put in six points and 5-foot 10 inch junior Savannah Anderson scored four more. Anderson led the Cougars with 12 points while Stratman would finish with 10.
While Stratman and Anderson were pacing the Cougars, senior Mertz was doing the same for the Mustangs as she put up six in the second quarter and eight in the half to help the hosts to a 20-16 halftime lead.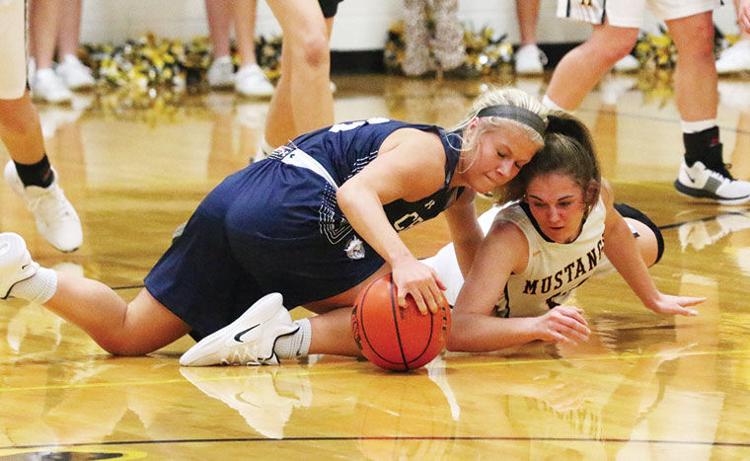 In the third quarter the Mustangs saw their lead dwindle to 24-22 when Anderson hit the first of her two 3-pointers.
The Mustangs defensive pressure and work on the glass would prove to be another huge factor as they were able to get second and third chances while holding the Cougars to one shot most of the times down the court.
The defense also turned the Cougars over 22 times in the game to 19 for the Mustangs.
Mertz led the Mustangs with a game high 13 points, Green chipped in with nine and Jillian Stark added six.
Cross County were 10 of 38 from the field, just 2 of 13 on 3-point attempts, and knocked down all six chances at the free throw line.
McCool Junction finished with 16 of 52 from the field and that included 3 of 13 on 3-point shots.
The Mustangs were just 6 of 14 at the charity stripe.
McCool Junction had 39 rebounds to just 27 for the Cougars.
Cross County (0-1) will be on the road tonight at Shelby-RC for a 6 p.m. tip.
McCool Junction is scheduled for a 2:30 p.m. tip at Hampton if the weather allows.
Cross County 4 12 10 2- 28
McCool Junction 12 8 10 11- 41
CC (28)- Giannou 2, Anderson 12, Stratman 10, Yungdahl 2, Hanson 2. Totals- 10-38 (2-13) 6-6 28.
MCJ (41)- Mertz 13, Green 9, Siebert 3, Wiemer 5, Hoarty 3, Schulz 2, Stark 6. Totals- 16-52 (3-13) 6-14 41.