YORK – Football was in the air Monday afternoon as the York Dukes held their first official practice of the 2019 season.
For those outside of the program, such as high school football fans around the state and media, not much goes into the preseason. It's mostly a lot of talk and predictions. None of it matters in the grand scheme of things until full-speed football is actually played.
Alliance visits East Hill Stadium for the season opener on August 30, and due to the graduation of last year's record-breaking and highly productive senior class, this year's Dukes have major holes to fill and return only three starters on offense and five on defense.
Some of this year's team leaders, like seniors Jacob Diaz, Tom Erwin and Brayan Rodriguez, aren't surprised to hear that not many across the state expect York to continue its recent stretch of consistent winning football. But the Dukes aren't worried about what others say or predict.
They're focused on putting in the work in the weight room and the practice fields. And they said doing those things has allowed them to bond as a team more than recent seasons. That fits in perfectly with the team's motto this year: Rise as One.
"A big thing about this group is that we're all together," Diaz, a 6-foot, 195-pound running back and outside linebacker, said after practice Monday. "From the freshmen to the seniors, I feel like everyone knows everyone, everyone's talking and communicating and we're just really united."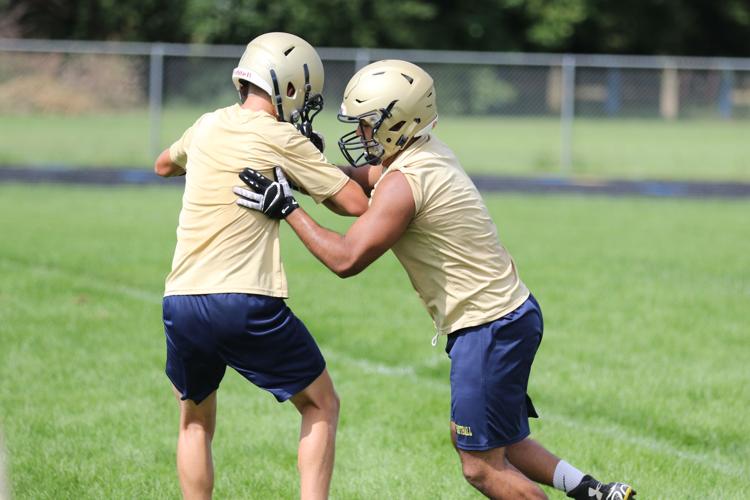 Ditto for Erwin, a 6-3, 220-pound inside linebacker and tight end/fullback.
"This year, as a whole team, we're really gelling," he said.
Erwin will likely be one of the players that anchor the defense this season. As a junior, he recorded 70 tackles, which was second on the team, while racking up the most tackles for loss with eight.
"Last year I didn't start, so it made the snaps I did get that much more meaningful," Erwin said. "Every time I got out there I was going 100 percent."
Erwin said he enjoys playing offense, but being a linebacker holds a special place in his heart.
"I like being a tight end and a fullback, but on offense you're the hunted, and on defense you're the hunter," he said. "I'd rather be a lion than a gazelle."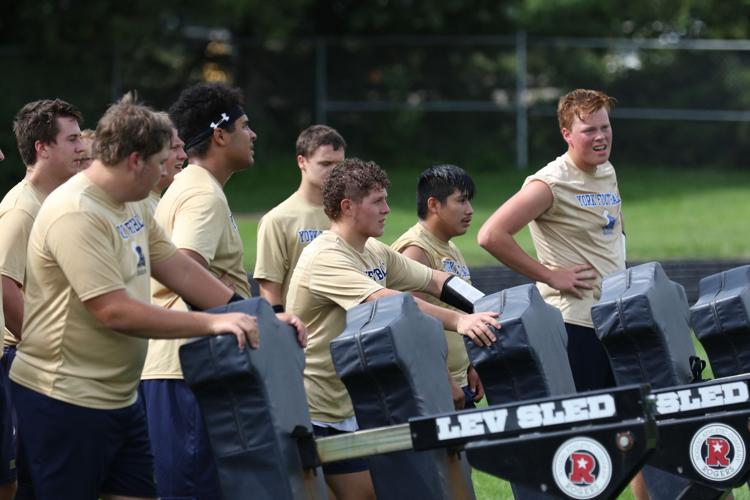 In his senior campaign, Erwin is taking it upon himself to be a leader.
"Any time I can, I really like going up to the young guys and telling them what they did well or what they're doing wrong to help them out," he said. "Whenever I'm talking to a young guy, I always picture them in my shoes when I was a freshman, because I was just a skinny little kid not really knowing my place."
As for Rodriguez, a 6-1, 220-pound defensive end/fullback who led the team with six sacks last season, the work he and his teammates have put in has him excited. Fifty-three football players attended at least 33 workouts this summer. That's what the team calls "Iron Man" territory.
"That's a little piece that says we're going to be ready," Rodriguez said. "A lot of these guys put in the time more than anybody else, and that's what I think will set us up differently. We're hungry this year."
York's "Rise as One" motto has really made a difference, Rodriguez said.
"We all have to be on the same page. We're bonding more together," he said. "We're going out to eat together, we're with everyone else, we're making an effort to become one team. Rise as One means we're coming together and becoming one team."
One way Rodriguez and his team got closer is through a group chat on their phones. Seniors, juniors and sophomores are all on it.
"We just help each other out," he said. "We remind each other about what we're doing in practice and just help each other."
Diaz, who rushed for 942 yards and 12 touchdowns last season, fought some injury problems as a junior, specifically a dislocated shoulder in the first Seward game. That forced him to miss some time, and kept him from being a 1,000-yard rusher.
But the shoulder is good now. And Diaz is putting in the work this offseason, getting stronger. His bench max is up to 292 pounds.
"I'm feeling strong and ready to go," Diaz said.
The "Rise as One" motto and being more connected as a team means a lot to Diaz. And even though the Dukes will need to replace all-state talent from last year, he's confident York can continue to be the cream of the crop in Class B.
"Everyone's thinking, 'They lost Garrett Snodgrass,' or 'They lost Brady Danielson,' and that's definitely lit a fire in everyone's stomach," he said. "We all want to prove everyone wrong so we'll just go to work."