YORK – Minnesota, Pennsylvania, Iowa, Missouri.
Those are the states that basketball has taken York's junior-to-be Maddie Portwine this summer. It's a serious travel schedule, but Portwine has equally serious goals on the hardwood.
She wants college basketball to be in her future, and competing on the biggest stages this summer as a member of the Cornhusker Shootings Stars, a traveling AAU team out of Lincoln, is a way to showcase her skills.
But it gives her other opportunities as well, ones that she's very grateful for.
"I've met some lifelong friends and had the opportunity to be coached by different coaches," Portwine said Tuesday morning at York's team camp at York High School. "Through this ride of club ball, I've learned discipline and respect as well as making many sacrifices in order to become a better player."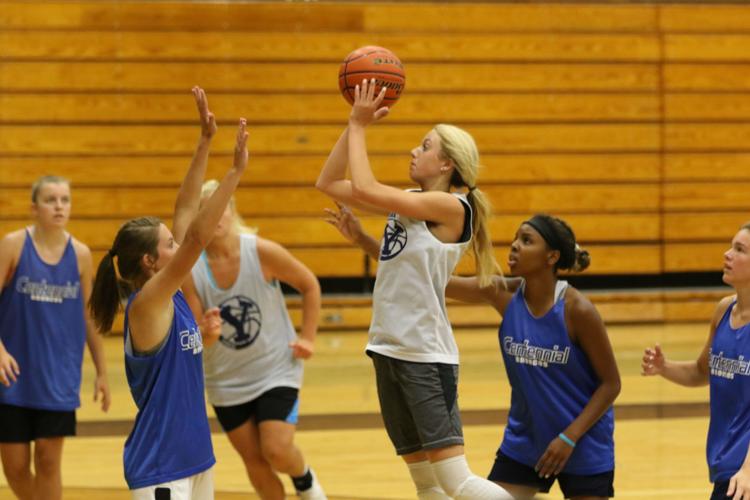 Basketball has been Portwine's passion ever since third grade, when her youth team visited camps in Lincoln and watched older players.
A couple of them that caught Portwine's attention were Jessica Shepard and Chatrice White, both of whom played for Shooting Stars, went on to star in college basketball and are currently in the WNBA.
"We'd always watch the Bison group and would sit there and go, 'wow, they're so good,'" Portwine said. "Jess Shepard was on the Stars when I was in third grade and watching her was incredible, and now she's a WNBA player, and absolute stud.
"I'm not looking for a future in the WNBA, but playing basketball at this level and playing for clubs like Shooting Stars has given me the opportunity to meet and play with some of basketball's greatest women athletes."
Anyone who has watched Shepard and White play sees they're versatile talents and two of the top women's basketball players to come out of Nebraska. In her two years of high school ball, Portwine has shown versatility, too, and is an intriguing prospect for the next level.
Portwine is a guard with length and vision, which she said are her two biggest strengths. At 5-foot-11, she was one of the main ball handlers for the Dukes last season as a sophomore, averaging a team-high 11.9 points per game while dishing out 50 assists. She shot 40 percent from inside the arc and provided an outside-shooting presence, knocking down a team-high 43 3-pointers at a 31-percent clip. Portwine said she's working on her outside shooting this summer, which will create more space in the post for senior teammate Natalia Dick.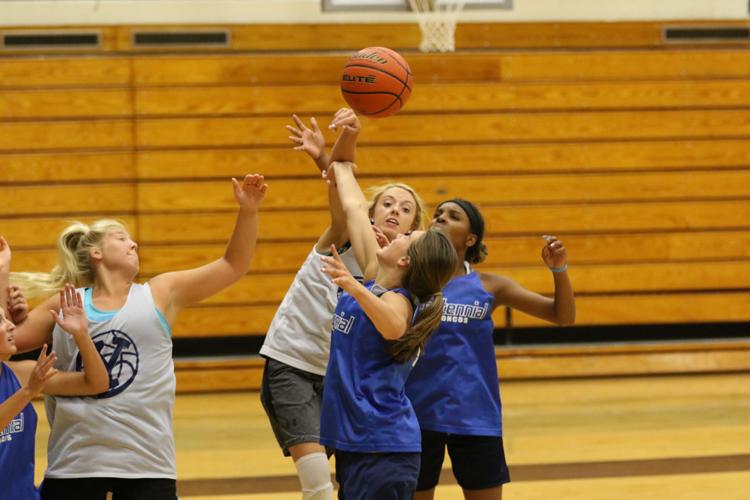 As a tall guard, Portwine's length helps defensively in the passing lanes, too. She led the team with 44 steals last season and was third in rebounds, averaging three per game. Her size can also create mismatches – if a smaller player is checking her, she's comfortable posting up in the paint.
This is a big summer for Portwine, who is using it to work on her game. The biggest area she wants to improve in is the transition game, which could be an important part of how the Dukes play next season.
"I want to work on coast-to-coast movement, so when I get a rebound I can just bust out and try to get as far as I can without having to drag it out, slow it down, slow the whole game down," she said.
Portwine noted that York's guards will be able to run the court this upcoming season, which could pose a problem for opponents.
"That's going to be hard for teams to go back and forth with us," she said.
Portwine has received interest from some Division I and II colleges, but she's not worried about that right now. She's only going to be a junior – her teammates and growing her skills are the top priority.
"My main focus now is to help my high school team be the best team we can be together," Portwine said.
The summer slate is just getting started too. Portwine's upcoming schedule includes tournaments in Kentucky, Indiana and a big one in Atlanta, Georgia, where top teams from all over the country will be competing.
It's serious competition, but that's OK. Portwine is serious about achieving her goals.