LINCOLN — Thanks to a combined 31 points from junior forwards Erin Schmidt and Halle Theis, the Fillmore Central Panthers advanced to the semifinals of the Class C-2 girls state tournament late Thursday night with a 53-41 win over the Nebraska City Lourdes Central Catholic Lady Knights at Lincoln Southwest High School.
The pair of tall forwards — Schmidt is 6-foot-1 while Theis, a Regis University (Colo.) volleyball commit, is 6 feet — were a key part to dissecting Lourdes' long 2-3 zone, which featured defenders like 6-3 Gina McGowen and 5-10 Elizabeth Baumert.
Schmidt scored a game-high 16 points while Theis, who came into the game averaging 7.4 points, had 15. Theis was aggressive Thursday night, especially at the top of the post. If it wasn't an entry pass to Schmidt, it was a hard drive to the hoop. Those drives paid off at the free-throw line, too, where she went 5 of 6.
"That's not really atypical in all honesty," Fillmore head coach Shad Eberhardt said of Theis' performance after the game. "We knew that the high post was going to be a place we really wanted to get the ball to with them playing their 2-3 zone. And we talked all week actually that she was one of our keys, because when the ball gets to the middle it's a lot easier for everybody else spacing-wise."
After taking a 12-9 lead after the first quarter, the Panthers stretched their advantage to 30-23 at halftime. Schmidt was doing her own damage in the lane. She scored six points in the second quarter, all buckets under the hoop, and went 2 of 2 at the line.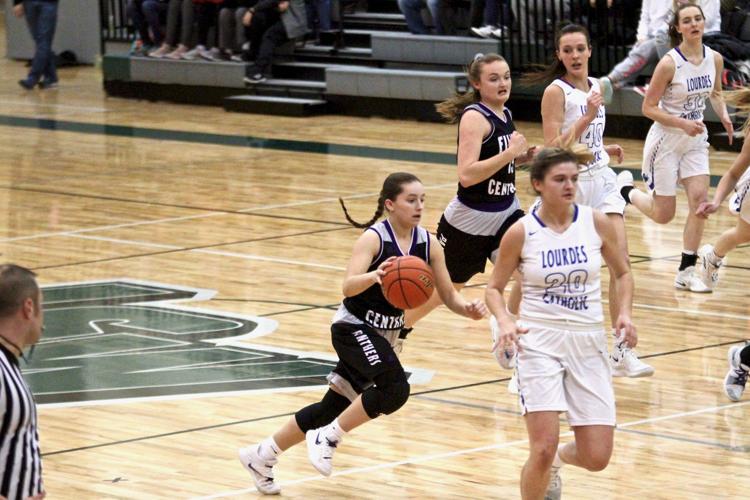 Fillmore, No. 4 in the Omaha World-Herald's C-2 ratings, has been a balanced team all year. Six players on the team have all had at least one 15-point game this season. Thursday night, sophomore Jackie Schelkopf and freshman Lexi Theis both chipped in with eight points.
"It's nice that any given night anyone can go off and contribute for us," Eberhardt said.
Lourdes didn't go down without a fight in the second half, however. The Lady Knights, rated No. 8 in C-2, started the third quarter on a 6-2 run that included back-to-back layups from Brianna Fulton that cut their deficit to 32-29 with 6:31 left in the period.
But Fillmore responded well by stretching its lead back to 10 points, 42-32, heading into the fourth. The Panthers went on an 8-2 run during that time and got four points from Halle Theis, two from Lexi Theis and two from Schmidt.
"I wanted to make a push and they kind of made one against us," Eberhardt said of Lourdes' hot start to the third. "I just told them to settle in and keep looking for good shots, and that they'd fall eventually. They just stayed with it. This team doesn't get too rattled, which is nice. They've been in a lot of big games and close games. They're kind of used to the pressure and they rose up today."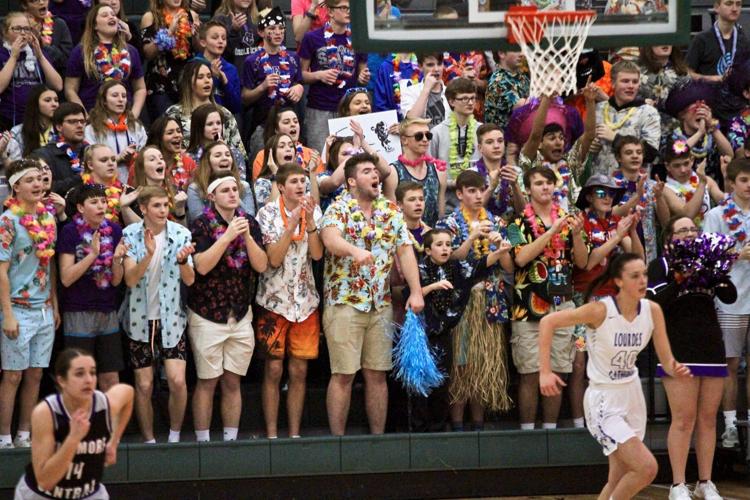 Lourdes didn't pull off the rally it needed in the last eight minutes, and Fillmore did just enough at the free-throw line to keep the Lady Knights at bay with five makes.
Fillmore advances to the C-2 semifinals on Friday against Crofton (22-3), which knocked off Blue Hill 55-36 earlier in the night, at 3:45 p.m. at the Bob Devaney Sports Center in Lincoln.
The Panthers improve to 23-4 on the season while Lourdes' season comes to an end at 20-6.
Fillmore Central (23-4) 12 18 12 11 — 53
Lourdes Central Catholic (20-6) 9 14 9 9 — 41
Fillmore Central scoring: Erin Schmidt 16, Halle Theis 15, Lexi Scott 8, Jackie Schelkopf 8, Macy Scott 6.
Lourdes Central Catholic scoring: Brianna Fulton 15, Gina McGowen 8, Elizabeth Baumert 5, Macey Allgood 4, Elaina Madison 4, Ivye Meyer 3, Jacey Kreifels 2.