POLK – High Plains' senior Dylan Soule has been a part of the sports scene his entire life.
His accomplishments in high school football, wrestling and track and field have been well documented, and being a three-sport athlete for as long as he can remember has prepared him for the next step in his life.
On Wednesday, Feb. 5 at High Plains Community School in Polk, Soule signed his letter of intent to attend Chadron State College this fall where he will take on a new challenge as a decathlon athlete for the Eagles' track and field program.
The beauty of the area surrounding Chadron State, along with his relationship with the Eagles' head coach, was an influential piece of his decision to head west.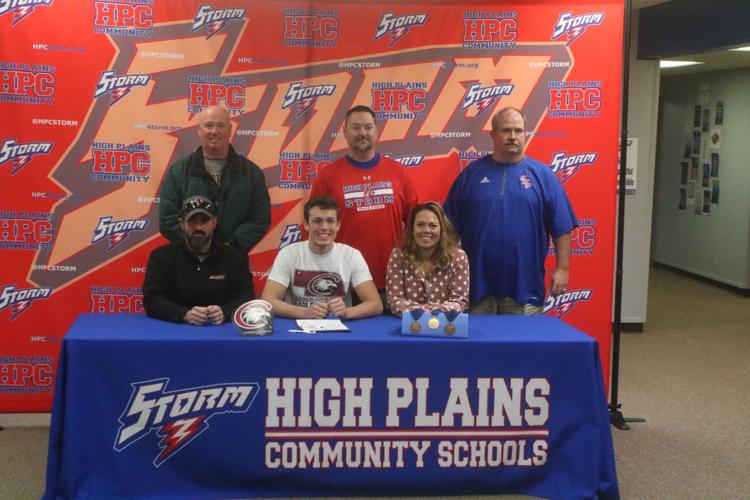 "As of now, going through high school and even doing baseball in the summer, I just feel like my whole life has been sports, so I know it will be a little bit of a transition going to college," Soule said. "Their science program is pretty prestigious, and it's just a beautiful area and a great campus and I really like the coach. He recruited me hard and it's someone who I have a good relationship with. So I just really felt it was a good fit."
Soule will major in Exercise Science, which maybe someday will lead him into the chiropractic field.
The High Plains senior has already been a part of a state championship this school season with the Osceola/High Plains Stormdogs, capturing the Class D-1 state football title in November. Soule is also currently the No. 1-rated wrestler in Class D at 170 pounds.
On the football field, Soule ran for 1,523 yards and 27 touchdowns. During the state title game against the Burwell Longhorns, when lead back Keaton Van Housen suffered an injury, Soule picked up the slack as he ran for 145 yards and four scores.
Soule is 33-7 on the mats on this year and has wrestled some of the top competition across the state to prepare him for districts and the state tournament. He's a solid favorite to bring home the state championship at 170 in D this year.
Once the wrestling season has come to an end, Soule will switch gears again as he will take his talents to the track and field scene.
In 2019 Soule led the York News-Times' coverage area in the discus with a throw of 150 feet, 9 inches, and he placed third at the Class D state meet. Soule is also a member of the Storm's 4x100-meter relay team that finished third and returns three members (Van Housen and Tanner Wood) for 2020.
Soule said that football was probably the route most expected him to go, but he feels having been involved in sports his entire life has prepared him for the challenges he will face at Chadron State.
"It was definitely more on the football side with recruiting. I guess they thought I was going to go that route. I just eventually decided I wasn't going to play football," Soule said. "It's going to be pretty tough because I definitely have many bonds with each sport I play. I'm looking forward to it and I am happy with my decision. I hope to be able to use my speed and my athleticism in becoming a decathlete.
"Having been involved in so many sports, it's kept me in shape. I'm always working different muscles, and it's kept me busy and I like that."
High Plains' track and field head coach Steve Meyer said Soule is a hard worker, and that's what he will continue to be at Chadron State.
"He's one of the hardest workers and he does not like to lose. He's been a competitor since he was in seventh grade football when I coached him there," Meyer said. "He's just kept that same demeanor and attitude all through high school. I know the things he can do in track and field. He likes the challenge and he will work at it.
"He would spend five hours a day at practice if he could. He'll work and work at it, because he wants to be that good."