YORK — Lefty pitcher Isaac Stark held the Doniphan-Trumbull bats in check while Jonah Barrow went 3 for 3 with three RBIs as the York Cornerstone Juniors defended their home diamond with an 8-0 five-inning win Tuesday night at Levitt Stadium.
Stark tossed all five scoreless frames and struck out three batters while walking two. The McCool Junction product gave up just three hits.
"Isaac Stark did absolutely amazing. He went out there and competed on the mound," Cornerstone baseball head coach Justin Rodrigues said after the game. "He got some timely double plays and he really led us today."
While Stark handled business on the mound, Barrow, another McCool Junction player, did damage at the plate. York quickly grabbed a 3-0 lead in the bottom of the first inning after Reid Heidtbrink ripped an RBI triple and both he and Beau Woods stole home on Doniphan-Trumbull wild pitches. Barrow then stepped up and smacked an RBI single to give his team a 4-0 advantage.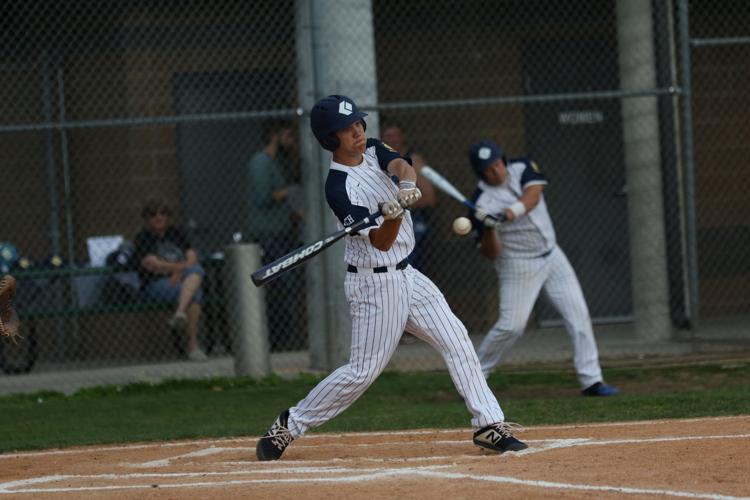 In the third, Bradyn Glebe successfully stole home on yet another wild pitch from Doniphan-Trumbull pitcher Tanner Roth, who finished his night with three strikeouts and six walks. Soon after that, Barrow hit a two-run single to center field to pump York's edge to 7-0.
"He finally broke through. He's one of our better players and has kind of been struggling just a little bit," Rodrigues said of Barrow. "But I'm glad to see him come through for us."
The win was sealed for good in the fifth when James Bonde stole home on another wild pitch that rolled to the Levitt backstop.
Heidtbrink was another solid bat for York as he went 2 for 3 with an RBI. Noah Jones was 1 for 2.
York outhit Doniphan-Trumbull 6-3.
The win was the final home game for the Juniors, who improved to 10-5. The Juniors will travel to Fairbury this afternoon for a 5:30 p.m. first pitch. Fairbury defeated York 7-5 at Levitt back on June 4.