YORK — Behind a strong performance on the mound from Nebraska football walk-on Garrett Nuss, Sutton handed York an 8-0 loss in the first game of a doubleheader Tuesday night at Levitt Stadium.
The 6-foot-5, 240-pound Nuss threw 4 2/3 innings and allowed just one hit — a single up the middle to AJ Beins in the second — while recording seven strikeouts and two walks. Shortstop Dusty Stone finished the game in relief for Sutton and struck out three while giving up three hits.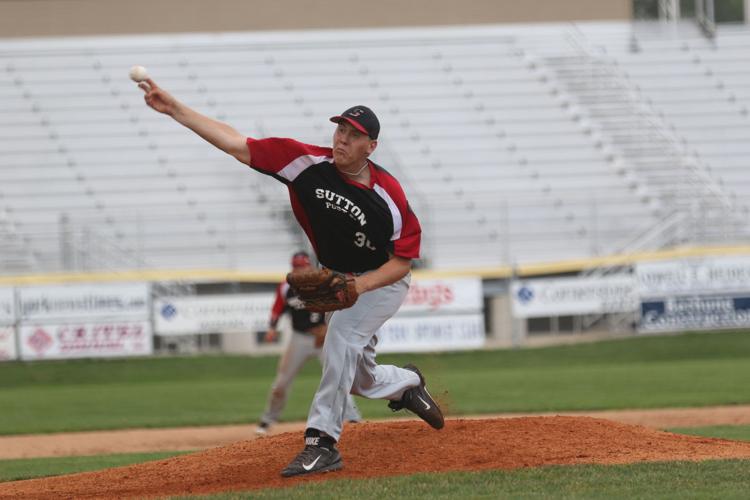 "Tons of credit to him. He beat us today," Cornerstone baseball head coach Justin Rodrigues said of Nuss after the game. "He didn't give us anything and he competed on the mound. He was really overpowering to be honest, so a lot of the credit goes to him."
Lately, the Seniors haven't gotten off to the best of starts in games. That trend continued on Tuesday night when shaky pitching and errors led to Sutton scores. The visitors rattled off four runs in the top of the first — which included a base runner crossing home due to a wild pitch — before tacking on another in the second to take a commanding 5-0 advantage out of the gate.
"I really can't explain it, they just have to come out with a little bit more focus," Rodrigues said of the early-game struggles, "and when it comes down to focus issues that's my job as a coach to have them prepared, and for the last three games now I haven't done that."
Sutton proceeded to add two scores to its total in the fifth with a two-run single off the bat of Ty Skalka and one in the seventh from a wild pitch.
York finished the game with four errors. The Seniors' started Mason Wright on the mound and the righty lasted five innings while striking out four batters with four walks. He gave up five hits and only one earned run.
Beau Woods came on in relief to finish the game for York and walked one in two innings of work.
At the plate, Beins, Cameron Bethune, Wyatt Cast and Woods all recorded a single in the game.
For Sutton, Skalka went 2 for 3 with three RBIs while Garrett Bonnell was 1 for 2.
In the second game of the doubleheader, Sutton won 12-6 in extra innings.