YORK – Heading into the 2019-20 season, York boys basketball head coach Scott Lamberty knew there would be challenges.
The Dukes lost all five starters from the season before, which meant the players on the court this past season lacked experience. That showed as York began the season 0-5, then dropped to 2-13 before the conference tournament. Things looked rough.
But then there was change. Lamberty saw improvement, and wins. York finished the year 6-3, played in a subdistrict final and was playing good ball to finish.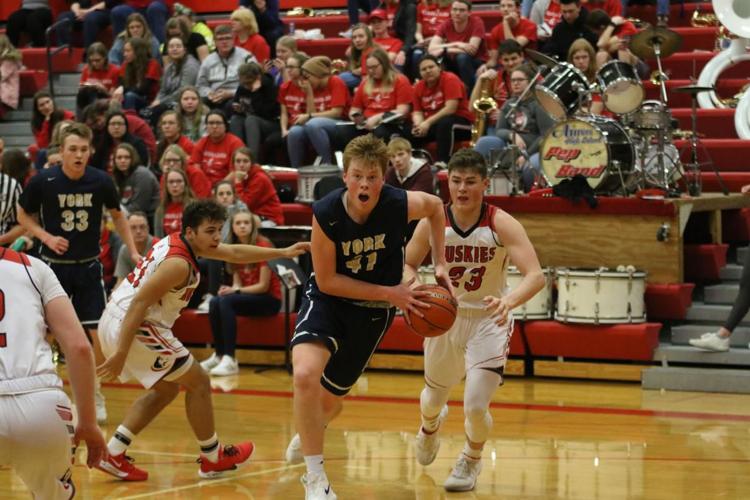 "Obviously with not a lot of varsity experience coming back we had to get better quickly, and I think the kids were able to get that accomplished," Lamberty said. "We had a good preseason and were able to find some things that would work for use offensively and defensively, and we played our best basketball in late January through February which is what you want from your team.
"I was proud of them for hanging in there and getting better when they could have folded up the tents and quit."
York's offense averaged 50 points per game through 24 contests. The Dukes' highest-scoring affair came in the St. Francis Holiday Tournament in Humphrey, when they beat Crofton 76-44.
The Dukes' top scorer on the season was junior Matt Haggadone, a 6-foot-3 guard that averaged 15.3 points and shot 36 percent (56 of 155) from 3 and 80 percent (43 of 54) from the free-throw line. In the win over Crofton, Haggadone exploded for 36 points. Haggadone also chipped in with 3.4 rebounds per game to go with 40 steals and 35 assists.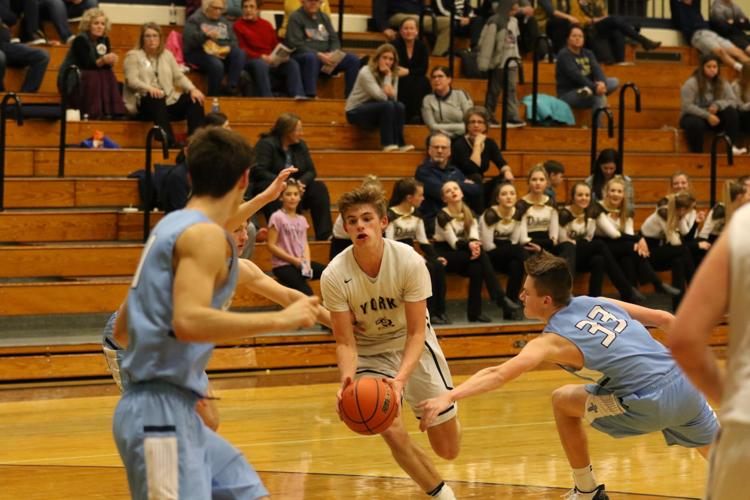 Like Haggadone, another junior that had a lot on his shoulders was Jake Erwin, who, just like during football last fall, did a little bit of everything for York when his team needed him. Erwin, a 6-1 guard, averaged 11.5 points, a team-high 5.5 rebounds, and racked up 71 assists and 59 steals, both of which were tops on the team.
Both Haggadone and Erwin will be leaned on quite a bit next season, too.
"Matt is a really good shooter and we need to find multiple ways to get him quality shots," Lamberty said. "Jake is one that can get to the basket and finish strong, so we need to find ways that will allow him to showcase that skillset. I think Matt will work a ton on his ball skill so he can get all the way to the basket more off the deck while Jake will work more on his three-point shot so he's more of a threat from behind the arc. That will help his ability to get to the basket."
Although Haggadone and Erwin will be back, York will still be replacing five seniors, including Tyler Wright, Noah Burke, Reed Malleck, Morgan Conner and Andrew Clark.
Clark, a 6-3 forward, came on strong toward the end of the year. He averaged 5.3 points and 2.9 boards, and was statistically the best 3-point shooter on the team with more than five attempts, as he shot 37 percent (21 of 57).
Joining Haggadone and Erwin as someone who logged quite a bit of varsity minutes and will be back next season is Austin Phinney, a hard-working 6-1 freshman that banged with bigger and older players all season in the paint and averaged 3.2 points and 2.9 rebounds. Phinney hauled down the second-most offensive boards on the team with 27 behind Erwin's 35.
Other young guys that will return next season with bigger roles include Chase Collingham, Barrett Olson, Ty Bartholomew and Ryan Seevers.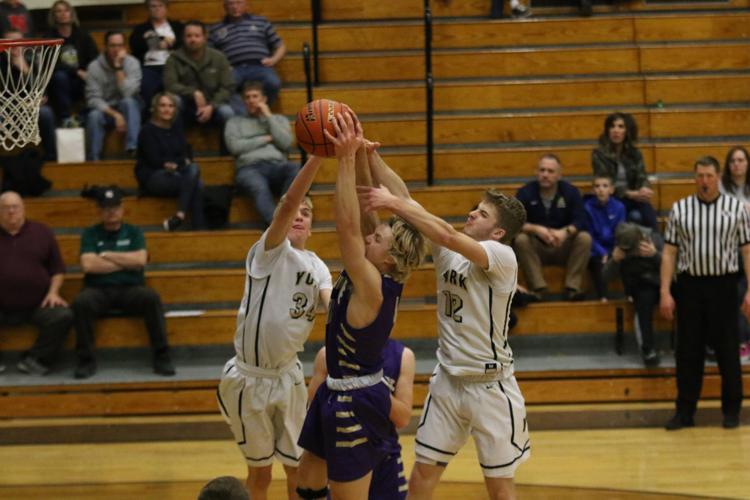 "We're bringing back a team that has a good deal of size and skill to work with next season," Lamberty said. "We're hoping to get a bunch more players to step up this summer that will provide competition going into next fall. The challenge comes from being able to get everyone enough looks to establish some continuity. So, we need to get into the gym this spring, summer, and fall and really work our basketball skill level so we can propel ourselves both individually and collectively into November."
In order to springboard into November and hit the ground running, summer work will be vitally important.
"That's what really accelerates the development of a team," Lamberty said.
Along with Phinney, Olson was another freshman that came off the bench and contributed. Olson excelled at the corner 3 in the Dukes' offense. The 6-1 forward shot 33 percent (10 of 30) from 3-point range and was also a 78-percent free-throw shooter (14 of 18).
"I love their ability and willingness to compete and get better all the time. I think those two have tremendous upside as they both already have a great skillset to work with in the spring," Lamberty said of Phinney and Olson. "Barrett is one of our hardest workers and will be counted on next season to be a really consistent three-point threat, as well as a guy who can get to the basket to create or finish.
"Austin is a stretch-four for us who can post up, hit the three, but also be relentless on the glass," Lamberty added. "I absolutely love Phinney's motor. This summer will be important for both of them to continue to develop their skills and to find how they best fit into our system. They won't be the only ones counted on next season, but we are hoping they have the biggest jump in production."