YORK – The final installment of the York News-Times' top three series focuses on the defense. Specifically: the top returning tacklers in the area.
Before we get into the breakdowns, here's a little information on the YNT coverage area: the YNT covers 10 football teams, including Centennial, Cross County, Exeter-Milligan/Friend, Fillmore Central, Hampton, Heartland, Osceola-High Plains, McCool Junction, Nebraska Lutheran and York.

The YNT coverage area features three 11-man teams in York (Class B), Fillmore Central (C-1) and Centennial (C-2); five Eight Man-1 teams in Osceola-High Plains, Exeter-Milligan/Friend, Cross County, Heartland, Nebraska Lutheran and two Six Man teams in McCool Junction and Hampton.

*These top returning defender selections are in alphabetical order and based off performances from the 2018 season.*
---
Tanner Kropatsch, Sr., Osceola-High Plains
If the Osceola-High Plains Stormdogs want to improve on last year's 5-5 record and make noise in the D-1 field, Tanner Kropatsch will need to have another solid year doing the dirty work.
In his junior campaign in 2018, Kropatsch led the defense with 122 tackles – he racked up 46 solos and 76 assists – while also anchoring the offensive line in the Stormdogs' run-heavy attack.
The 5-foot-11, 180-pound linebacker recorded double-digit stops in eight games last year, according to maxpreps.com. His most prolific game on defense was in a 66-34 win over Palmer where he notched 16 tackles. In losses to Lutheran High Northeast and East Butler, Kropatsch, an Osceola product, had 15 and 14 tackles, respectively.
"He's another great leader on the team," Osceola-High Plains head coach Greg Wood said last year of Kropatsch. "Tanner was the anchor of the offensive line and the captain of the defense. He's a kid that brought his lunch pail to practice every day, ready to go to work."
Kropatsch and his teammates get their season started Aug. 30 on the road at Palmer. Other road games for the Stormdogs include Ravenna on Sept. 13; Cross County in Stromsburg on Sept. 27 and East Butler in Brainard on Oct. 18.
Osceola-High Plains will host Fullerton on Sept. 6; Elkhorn Valley on Sept. 20; Exeter-Milligan/Friend on Oct. 4 and Nebraska Lutheran on Oct. 25.
---
Dylan Soule, Sr., Osceola-High Plains
Making his second appearance in this YNT top three series is Osceola-High Plains quarterback/linebacker Dylan Soule. He's also the second Stormdog, which gives you an idea of just how much talent returns on head coach Greg Wood's ball club for the 2019 season.
It's not often that a quarterback is the most physical player on the team, but that may be the case for the Stormdogs as the multi-talented Soule recorded a team-high 1,897 total yards on offense while also being the second-leading tackler with 107, including 53 solos and 54 assists.
"He did a great job all season leading the team," Wood said of Soule last season.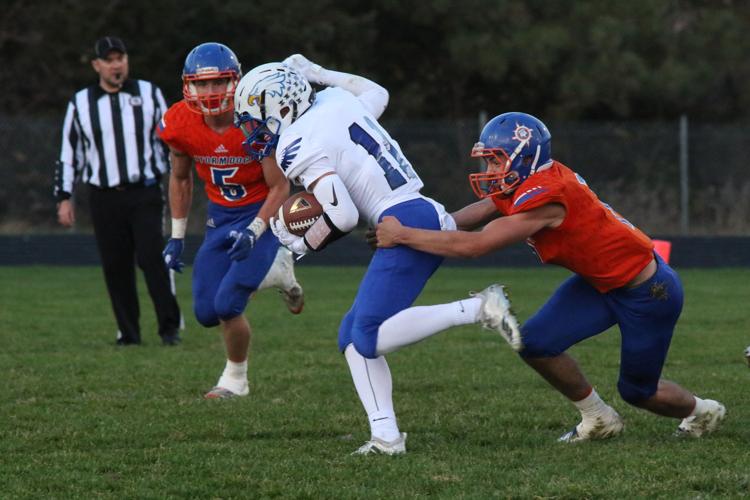 According to maxpreps.com, Soule had 10 or more tackles in seven games last season, with a season-best 19 stops coming in the Bruning-Davenport/Shickley game in the playoffs, one which Osceola-High Plains won 34-22. That upset victory turned heads around the state, and Soule was a major part of it with four rushing touchdowns along with his aforementioned 19 tackles.
---
Max Zeleny, Sr., Exeter-Milligan/Friend
Exeter-Milligan/Friend's Max Zeleny did just about everything for the Bobcats last season in a year that saw them make the D-1 semifinals. That might be why he's dubbed "Mad Max" by his hometown crowd.
If you remember reading Zeleny's name in past installments of this YNT's top three series, you're correct. Zeleny, who also started at tight end, was a top returning receiver selection last Friday as well.
As a linebacker, Zeleny was tops on the team in tackles with 118, including 63 solo stops with 55 assists. He also led the defense in interceptions with six.
"Max was always around the ball," Exeter-Milligan/Friend co-head coach Dean Filipi said at the end of last year. "He's a good leader and plays very physical."
Zeleny picked up a season-high 12 ½ tackles in Exeter-Milligan/Friend's first-round playoff game against East Butler and 11 in a quarterfinal against Guardian Angels Central Catholic. To give you a sense of just how active Zeleny was at linebacker, check out this stat: In a span of six regular-season games, Zeleny intercepted six passes and picked off at least one in five of those contests.
Against Nebraska Lutheran, Zeleny recorded 8 ½ stops and two interceptions.
Exeter-Milligan/Friend starts the season Aug. 30 at home against Tri County. Other home games include Thayer Central on Sept. 20; East Butler on Oct. 11; and Cross County on Oct. 25.

Away games include at Palmyra on Sept. 6; at Lourdes Central Catholic on Sept. 13; at Osceola-High Plains on Oct. 4; and at Nebraska Lutheran in Waco on Oct. 18.