YORK – Last season, the York News-Times' coverage area boasted a strong crop of receivers on the high school football field.

Centennial's Jackson Hirschfeld was the cream of that crop, as he hauled in a whopping 97 passes for 1,304 yards and 16 touchdowns along the way to helping deliver the Broncos' first state championship. But Hirschfeld is graduated and will be playing basketball at Concordia University as a freshman.

Also departed is the uber-talented Brady Danielson from York, who seemed to always catch the ball with his hands and away from his chest, just like they teach it. Danielson, who will be playing Division I basketball at the University of North Dakota later this year, caught 49 passes for 929 yards and seven scores in the Dukes' run-heavy offense.

So, yes, the local area loses some talented pass catchers. But not all of them are gone. The coverage area brings back some good ones, too, and the YNT is here to break down the top three.

Before we get into the breakdowns, here's a little information on the YNT coverage area: the YNT covers 10 football teams, including Centennial, Cross County, Exeter-Milligan/Friend, Fillmore Central, Hampton, Heartland, Osceola-High Plains, McCool Junction, Nebraska Lutheran and York.

The YNT coverage area features three 11-man teams in York (Class B), Fillmore Central (C-1) and Centennial (C-2); five Eight Man-1 teams in Osceola-High Plains, Exeter-Milligan/Friend, Cross County, Heartland, Nebraska Lutheran and two Six Man teams in McCool Junction and Hampton.

Next Friday, the YNT will have its final installment of this series as it breaks down the top three returning defensive players.

*These top returning receiver selections are in alphabetical order and based off performances from the 2018 season.*


---
Joel Bargen, Sr., Centennial

Centennial won the Class C-2 state title last season in dramatic fashion when four-year starting quarterback Wyatt Ehlers took the shotgun snap, rolled to his right and found his top target, Hirschfeld, in the back of the end zone for a game-winning 2-point conversion against the favored Norfolk Catholic Knights. 

It was a heck of a season for Centennial and its head coach, Evan Klanecky. But Klanecky and his staff will head into preseason practices with a new-look team. The Broncos will be without a massive group of 19 players from last year's squad that are now graduated.
Centennial returns just two starters on offense and three on defense. Inexperience is everywhere.

But one of those returning pieces is Joel Bargen, a 6-foot-4, 205-pound tight end that caught 25 passes for 291 yards and two touchdowns as a junior last year. With the team's two leading receivers from last season – Hirschfeld and Max Tomes – graduated, Bargen will be stepping into a greater role in his senior campaign. 

"He has great hands and also does a great job of setting the edge or swipe blocking if need be," Klanecky said of Bargen. "He's a very well-conditioned player with a great mindset and a very coachable kid."

Bargen, who is versatile enough to shift out to a more traditional receiver position that allows the offense to go from 21 (two backs, one tight end) to 11 (one back, one tight end) personnel, had his best game in one of the most important contests last season.

Against Aquinas Catholic on Sept. 21, the Broncos defended their home field with a 28-21 win, and Bargen hauled in six catches for 60 yards and one touchdown. Then in a tight 33-28 quarterfinal playoff win over Bancroft-Rosalie/Lyons-Decatur Northeast on Nov. 2, Bargen caught three passes for 53 yards, including a 36-yard reception.

Centennial will open the season at home in Utica against Syracuse on Aug. 30. Other home games for the Broncos include Battle Creek on Sept. 13; North Bend Central on Oct. 4; David City on Oct. 18; and Twin River on Oct. 25.

Away games include at Malcolm on Sept. 6; at Sutton on Sept. 20; at Aquinas Catholic on Sept. 27; and at Shelby-Rising City on Sept. 27.


---
Zach Richert, Sr., Nebraska Lutheran

Of the 55 completions thrown by the Nebraska Lutheran Knights' run-focused offense last season, 40 percent of them were caught by Zach Richert.

Richert is one of the more talented and versatile athletes in the YNT coverage area. The 5-10, 170-pounder is a three-sport athlete and state-track qualifying high jumper. During his junior campaign last season, he led the Knights with 22 catches for 390 yards and six touchdowns.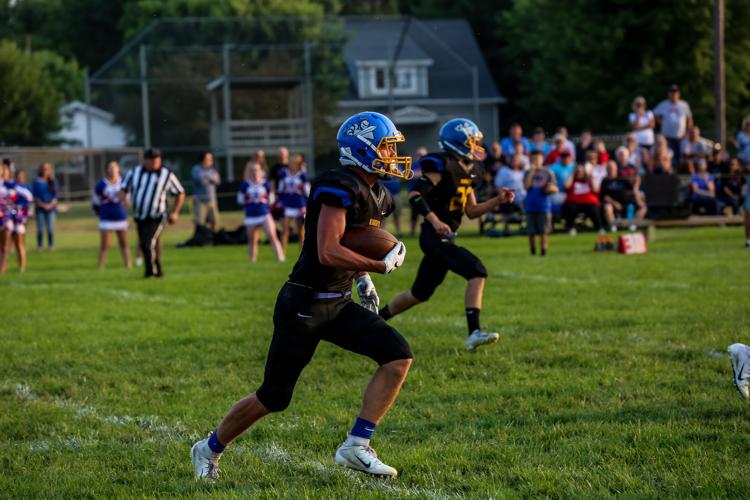 One of his top receiving performances came against Osceola-High Plains on Oct. 19 when he had five receptions for 94 yards and two scores. 
Richert has shown the ability to be a big-play wideout as well. He had four games where his longest catch went for more than 30 yards, including a 38-yarder against Exeter-Milligan/Friend, a 46-yarder against Osceola-High Plains, a 47-yarder against Thayer Central and a season-high 59-yarder against Nebraska Christian.

"Zach's athleticism and ball skills make him a big-play threat," Nebraska Lutheran head coach Benjy Wells said. "He has developed as a route-runner and is able to make good things happen after the catch. He continues to work on his game and expanding his skill set for the upcoming season."
Nebraska Lutheran will open the season on the road at Palmyra on Aug. 30. Other road contests for the Knights include at Thayer Central on Sept. 13; at Cross County on Oct. 11; and at Osceola-High Plains on Oct. 25.

The Knights' games in Waco begin with Nebraska Christian on Sept. 6; Heartland on Sept. 20; East Butler on Sept. 27; and Exeter-Milligan/Friend on Oct. 18.


---
Max Zeleny, Sr., Exeter-Milligan/Friend

In their first season as a co-oped football team, the Exeter-Milligan/Friend Bobcats went 11-1, made the semifinals of the D-1 playoffs and had two 1,000-yard rushers.

Although the Bobcats were a very run-oriented team – they averaged 294 rushing yards per game – tight end Max Zeleny, who was dubbed "Mad Max" by his hometown announcer, was still able to hurt opponents as a receiver. Last season as a junior, Zeleny led EMF with 24 catches for 413 yards and six touchdowns.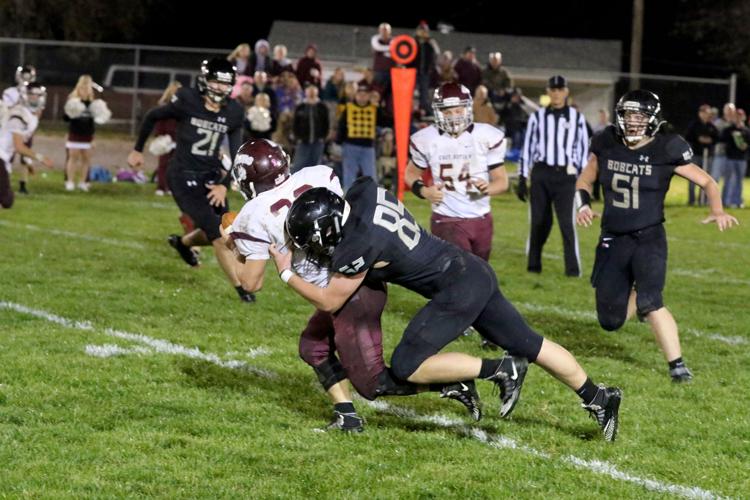 Zeleny provided the Bobcats' passing game some consistency, too. There was a span of four consecutive games during the regular season where Zeleny caught at least one touchdown. 
In a 60-28 win over Palmyra on Aug. 31, Zeleny hauled in two catches for 65 yards, both of which went for touchdowns. Then on Sept. 7 in a 48-12 win over Lourdes Central Catholic, he caught five passes for 36 yards and one score. The following week in a 62-20 victory over Thayer Central on Sept. 14, Zeleny had three receptions for 80 yards and one touchdown. And last, but not least, on Sept. 28 in a 50-6 win over Osceola-High Plains, he caught three passes for 51 yards and one score.

Zeleny was also the leading tackler on defense with 118, including 63 solo stops and 55 assists.

EMF begins the season Aug. 30 at home against Tri County. Other home games include Thayer Central on Sept. 20; East Butler on Oct. 11; and Cross County on Oct. 25.

Away games for the Bobcats include at Palmyra on Sept. 6; at Lourdes Central Catholic on Sept. 13; at Osceola-High Plains on Oct. 4; and at Nebraska Lutheran in Waco on Oct. 18.