YORK – The local area will have plenty of speed and pop at the running back position this fall, and the York News-Times is here to break down the top three players to watch at that spot as football creeps ever closer to opening night on August 30.
The YNT covers 10 football teams, including Centennial, Cross County, Exeter-Milligan/Friend, Fillmore Central, Hampton, Heartland, Osceola-High Plains, McCool Junction, Nebraska Lutheran and York.
The YNT coverage area features three 11-man teams in York (Class B), Fillmore Central (C-1) and Centennial (C-2); five Eight Man-1 teams in Osceola-High Plains, Exeter-Milligan/Friend, Cross County, Heartland, Nebraska Lutheran and two Six Man teams in McCool Junction and Hampton.
Next Friday, the YNT will break down the top three returning receivers.
*These top returning running back selections are in alphabetical order and based off performances from the 2018 season.*
---
On any other team, York's Jacob Diaz likely would've been a 1,000-yard rusher as a junior. But a combination of nagging injuries and understandably splitting carries with all-stater and now Husker linebacker, Garrett Snodgrass, led to Diaz finishing just under the benchmark number for backs. Diaz still proved he can run the rock, however, with 942 yards and 12 touchdowns on 138 carries for a York team that finished 9-3 with a Class B semifinal appearance.
At 6 feet and 195 pounds, Diaz provides power and the ability to break tackles in the Dukes' run game. But it's not just his physical running style that stands out. Just ask his head coach.
"Jacob is a great all-purpose back. He has the ability to make you miss, run with power and run away from you," York head coach Glen Snodgrass said. "Jacob is also a very good blocker and receiver."
When Diaz was healthy, some of his best games came against the best competition York played. That included games against eventual Class B champ Omaha Skutt, where Diaz racked up 82 tough yards and one touchdown on 10 carries, and against Scottsbluff in a Class B semifinal, where he rushed for 122 yards and one score on 16 carries.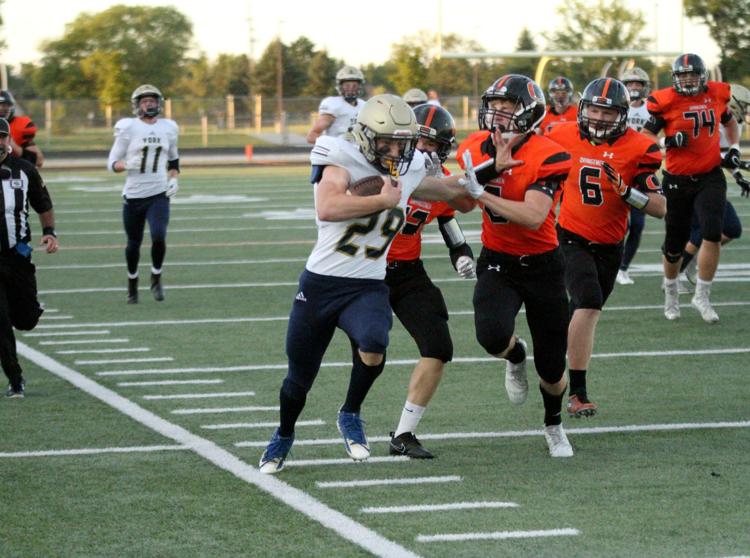 Diaz also broke the 100-yard mark in four other games: at Beatrice (14 carries, 126 yards, one touchdown), at Grand Island Northwest (17 carries, 146 yards, one touchdown), vs. Alliance in the first-round of the playoffs (15 carries, 123 yards, one touchdown) and vs. Seward in the playoffs (20 carries, 102 yards, two touchdowns).
Garrett Snodgrass and Diaz were running behind a solid offensive line with some experienced players up front last season. This year's York O-line will have a slightly different look to it, though, as new players will need to step into starting roles.
Diaz and the rest of his York teammates will open the season at home against Alliance on Aug. 30. Other home games include Skutt on Sept. 20; Beatrice on Sept. 27; Northwest on Oct. 11 and Seward on Oct. 18.
Road games include at Blair on Sept. 6; at McCook on Sept. 13; at Hastings on Oct. 4 and at Crete on Oct. 25.
---
Jake Stoner, Jr., Fillmore Central
The Fillmore Central Panthers haven't been to the playoffs since 2014. That season, they finished 7-3 with a Class C-2 first round playoff appearance. Since then, however, Fillmore Central, which now plays C-1 ball, has gone a combined 9-27.
If the Panthers are going to turn things around in Geneva, the player to lean on might be Jake Stoner, who, as just a sophomore last year, scored nine touchdowns on the season and is the most dynamic player with the ball in his hands.
Stoner also threw most of the passes as quarterback in Fillmore's run-heavy offense, but he also had a team-high 754 rushing yards and six touchdowns on 166 carries, so he's just as much of a running back as the other two players mentioned in this article.
The 5-10, 180-pound Stoner reached the 100-yard rushing mark in two games last season while proving he can carry a heavy workload. In a close 21-20 loss to Central City last October, Stoner rushed for 155 yards and two touchdowns on 23 carries. A week later in a loss to Fairbury, Stoner racked up 220 yards and two scores on 43 touches.
"Jake will lead our rushing attack this year. We're going to have to be creative in how we get him rushing attempts," Fillmore Central head coach Mitch Lockhart said. "Last year he had a really slow start learning a new offense, but he found his stride and had 400-plus yards rushing in his last two games."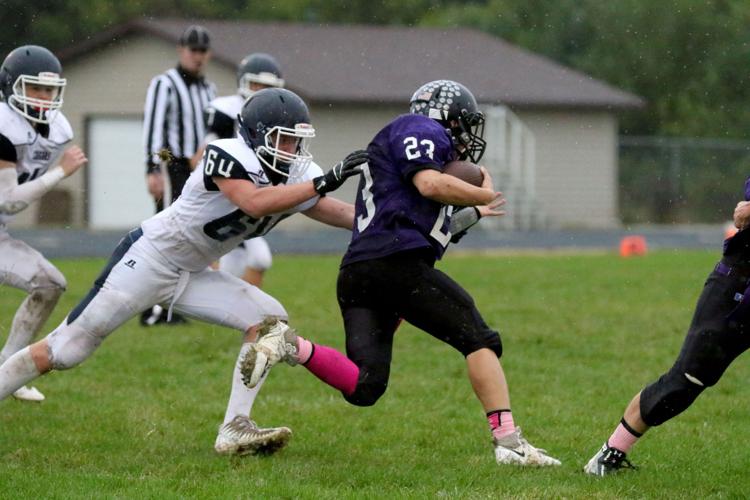 According to Lockhart, Fillmore Central will run a variety of spread formations this season, with some pistol and flex mixed in as well.
Along with his two touchdown passes, Stoner proved he can hurt the opposition on special teams, too. He had 1,198 all-purpose yards and recorded 389 yards in kick returns, even bringing one kickoff back for a touchdown against Minden.
Stoner, a state track qualifier in the long jump and the 100-meter dash, showed his physicality on defense as well. He had the second most tackles on the team with 64, and racked up a season-high 13 stops against Superior.
"He's been an important leader for us both on and off the field," Lockhart said. "He's extremely coachable and is always willing to do what's best for the team. He has a great attitude and has worked hard this offseason."
Fillmore Central begins the season at home against Columbus Lakeview on Aug. 30. Other home games in Geneva include Minden on Sept. 20; Superior on Sept. 27; Milford on Oct. 11 and Fairbury on Oct. 25.
Away games for the Panthers include at Holdrege on Sept. 6; at Sandy Creek on Sept. 13; at Aurora on Oct. 4 and at Central City on Oct. 18.
---
Keaton Van Housen, Sr., Osceola-High Plains
In the YNT coverage area – heck, maybe even the entire state – there might not be a more electric talent with the ball in his hands than Osceola-High Plains' senior Keaton Van Housen.
In three seasons of varsity football – his freshman and sophomore years were with the undermanned High Plains Storm while his junior campaign last year was with the co-opted Osceola-High Plains Stormdogs – the 5-11, 187-pound Polk native has racked up over 5,300 all-purpose yards. So far in his career, he's rushed for 2,724 yards and 43 touchdowns while catching 69 passes for 1,122 yards and 15 scores.
Van Housen is a dangerous returner as well. As a sophomore, he returned four kickoffs and one punt for a touchdown. As a junior, he brought two kickoffs back for scores.
With Van Housen paired alongside senior dual-threat quarterback Dylan Soule, Osceola-High Plains has one of the best backfields in Eight-Man football.
Van Housen, who was invited to watch Nebraska's annual spring game on the sidelines last April, rushed for more than 100 yards in five games in 2018 with a season-high 281 yards and six touchdowns coming against Fullerton. Those are some eye-opening numbers for Van Housen, and if it wasn't for nagging hamstring issues, they could have even been bigger.
"When Keaton is healthy, he's one of the best in the state," Osceola-High Plains head coach Greg Wood said.
Van Housen isn't just a one-trick running back – he excels in multiple areas on the football field. He's shown he can easily get the edge on outside runs and the ability to out-sprint defenders with pull-away speed. He's not afraid to get physical in between the tackles, either.
But where Van Housen might be the most dangerous is in space. He's a big play waiting to happen and, barring injury, will get plenty of opportunities in the passing game as well. As a junior, Van Housen had five games where he hauled in over 50 receiving yards and averaged 22.7 yards per catch.
"He has great hands," Wood said of Van Housen. "He's one of Dylan's favorite targets."
Osceola-High Plains' season begins Aug. 30 on the road at Palmer. Other road games for the Stormdogs include Ravenna on Sept. 13; Cross County in Stromsburg on Sept. 27 and East Butler in Brainard on Oct. 18.
Osceola-High Plains will host Fullerton on Sept. 6; Elkhorn Valley on Sept. 20; Exeter-Milligan/Friend on Oct. 4 and Nebraska Lutheran on Oct. 25.