YORK – The York Dukes and Omaha Skutt Catholic SkyHawks are getting used to seeing each other.
In the fall of 2017, the two teams met in Memorial Stadium for the Class B state football championship. About four months later, they met on the hardwood of Pinnacle Bank Arena in the state basketball championship.
Both titles were won by York. But this series isn't done yet.
York (21-4), the No. 5 seed of the tournament, was matched up with No. 4 Skutt (22-4) in the opening round of this Thursday's state basketball tournament in Lincoln. That game starts at 10:45 a.m. at Pinnacle.
Although the official brackets were announced last week, the Dukes were prepping for Skutt well before, and thanks to York High School's spring break that lasted from Feb. 28 to March 4, they've been practicing in the mornings to help simulate a 10:45 a.m. game time.
"We had been checking power points for a couple weeks and had a pretty good idea we could see Skutt," York head coach Scott Lamberty said. "The kids are excited about the opportunity and realize that we have a very tough draw. So, that has actually helped our focus on details in practice."
How much of last year's state title game against Skutt did York's coaching staff take into account this time around? Lamberty said he and his staff have mainly been focusing on breaking down this season's film of the SkyHawks, but there is still some benefit to looking at last year's game and how it played out, when the Dukes erased a nine-point deficit with a little over a minute left in the game to force overtime. They eventually prevailed in double OT with a 61-56 victory.
"Last year's game gives us a good idea of how we feel they will try to attack us," he said. "But, both teams are a bit different from last year as well."
As Lamberty mentioned, this York squad isn't the same as last year's.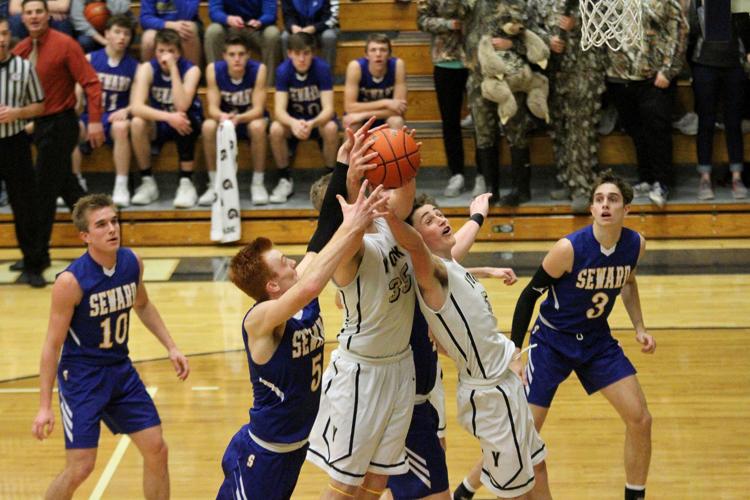 Last season, York had eight to nine players see consistent minutes and had three strong senior role players – and a senior starter in Tyler Cast – come off the bench and contribute both offensively and defensively with Simon Otte, Bryce Danielson and Nick Weskamp. Entering last year's state tournament, Weskamp averaged six points per game while Otte scored 3.3 and Danielson 2 to go along with stout defense from all three.
This season, however, York isn't been as deep. Sophomore Jake Erwin is a key part to the bench and plays significant minutes. Junior Morgan Conner and senior Sam Kohmetscher also receive valuable minutes, and junior Zayden Loreman has increasingly gotten more spot duty as the season has progressed. Those four are key role players for the Dukes, but none are averaging more than 2.3 points per game.
Like the Dukes, Skutt lost a key starter from last season in Austin Ash, who averaged 13.1 points entering state in 2018. The SkyHawks return a big three of 6-foot-3 Tyson Gordon, 6-foot Jacob Kudron and 6-6 TJ Skradski. Gordon enters Thursday averaging 15 points and five rebounds while Kudron averages 11.8 points. Skradski is pouring in 11 points with six boards per outing.
"Tyson Gordon is a very dynamic player who is very good in transition, off the deck in the half court and a very good 3-point shooter," Lamberty said. "We will have to have a plan for him. Jake Kudron is also very good. He's improved off the deck and has always been a very good 3-point shooter."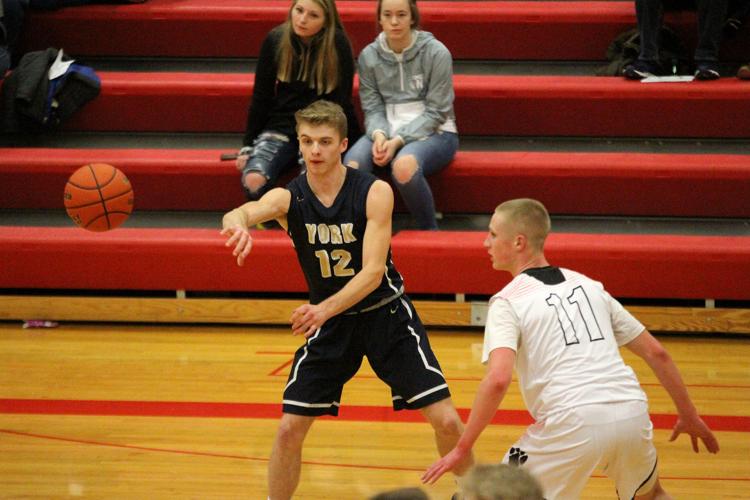 Fans that watched last year's Class B state championship game most likely noticed the SkyHawks' quickness at the guard position. Lamberty mentioned the strength of this season's Skutt team, along with quickness, is its ability to penetrate a defense with multiple players.
"They'll spread you out and take away gap help at times and work one-on-one a lot," Lamberty said. "Any help off Skradski is an easy layup for him because a guard can't stop him if they rotate to him."
Defensively, Lamberty is expecting a man-to-man defense from the SkyHawks, who have shown an ability to stop dribble penetration that Dukes like Brady Danielson excel at.
"They're almost always man-to-man, but they may extend it full-court to a little bit of a run-and-jump press, or even a 1-2-2 press," Lamberty said. "We have to be able to be physical against their man-to-man."
In studying Skutt on film, there doesn't seem to be obvious vulnerable areas where York can focus on offensively.
"We will have to be solid in how we attack and everyone knowing where the ball is going," Lamberty said. "We'll need to figure out adjustments once we know how they want to play us defensively."
Skutt comes into Thursday riding a seven-game winning streak. The SkyHawks beat Lexington in the B-4 district final to advance to state.