KEARNEY – Although he wore No. 5 on his jersey, it looked like the same No. 34 that York Dukes football fans watched every Friday night in the fall.
Garrett Snodgrass anchored the defense for the South team on Saturday afternoon in the 61st annual Shrine Bowl all-star football game at Ron and Carol Cope Stadium in Kearney and seemed to be everywhere for the South, which ultimately lost the game to the North, 32-10.
Whether it was providing run support, dropping back in coverage or plowing into the North's defense in his dad and head coach Glen's heavy Hoosier formation, the 6-foot-3, 220-pound two-time All-Nebraska selection who owns six school records on the football field went all-out on Saturday, racking up seven tackles while rushing for 16 yards with two catches for 11 yards.
Snodgrass gave it his all, just like he did for the York basketball team his senior year, even though he could have easily sat out some games while battling injuries to both legs sustained in a long and physical football season. Snodgrass still gained Class B all-state honorable mention accolades and averaged 12.5 points, 7.3 rebounds and two assists. He set single-season school records in rebounds (191) and field-goal percentage (59.8 percent).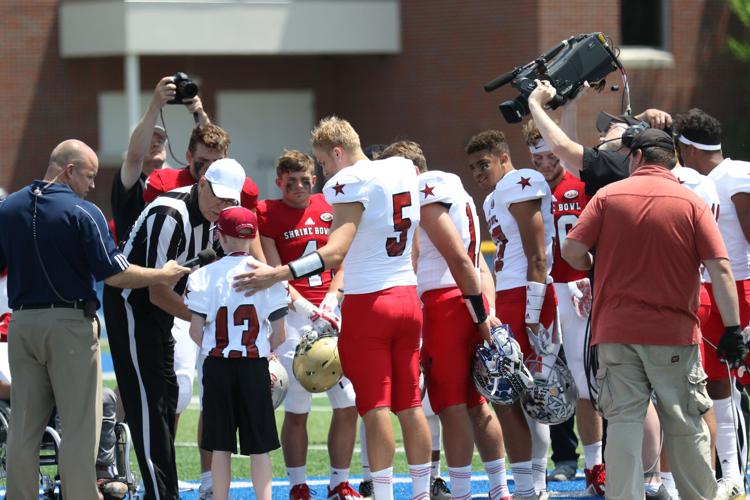 Snodgrass gave it his all for his track and field team, too, where student-athletes sometimes pack it in or direct focus elsewhere during their final months in high school. But Snodgrass didn't pack it in – he qualified for the state meet in three events, including the shot put, the discus and 4x100-meter relay. He placed fourth in the shot, throwing a personal-best 52 feet, 4 ½ inches.
The fact that Snodgrass continued to give max effort and still had high-level success in all three sports is the reason he's the York News-Times' 2018-2019 Male Athlete of the Year. Due to the busy schedule in front of him, Snodgrass was presented the award after the Shrine Bowl.
"I just wanted to represent the community of York as well as I could," Snodgrass said of his career as a Duke. "They've done so much for me and I wouldn't be in the position I am today without all my friends, teachers and everyone behind me. I just wanted to give it my all for the town and represent York as best I could while I still can."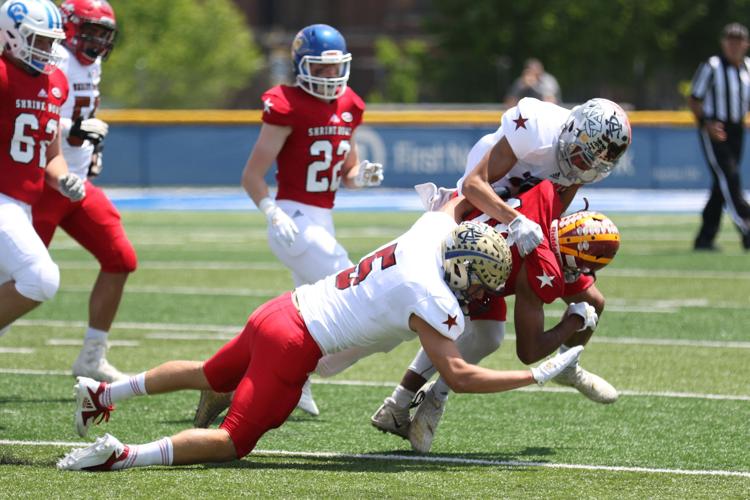 The York News-Times' Male and Female Athlete of the Year awards have been given to the most deserving student-athletes from its 10-school coverage area that compete in three sports during the school year. The 2018-2019 Female Athlete of the Year is Exeter-Milligan's Katherine White, who will play volleyball at Missouri Western State University.
After the Shrine Bowl had ended, and Foster Field was engulfed with family and friends of the players, as well as all sorts of media, Snodgrass was asked what it means to be a York Duke in the middle of the mess.
"No matter what you do, whether you like it or not, or maybe it's not your favorite sport, you still have to go out and give it your all for the town, the community, your friends – everyone."
Snodgrass plans on majoring in Agronomy while playing football at Nebraska.
---
Past winners of the York News-Times' Male Athlete of the Year award, which has been presented annually since the 2005-06 school year, include:
York's Simon Otte in 2017-2018
Heartland's Austin Stuhr in 2016-2017
York's JJ Schulz in 2015-2016
Exeter-Milligan's Derek Luzum in 2014-2015
York's Ty Danielson in 2013-2014
McCool Junction's Coleman Cogswell in 2012-2013
York's Michael Powell in 2011-2012
York's Connor Zumpfe in 2010-2011
Centennial's Tyler Wullenwaber in 2009-2010
Cross County's Isaac Moore in 2008-2009
Hampton's Dwayne Wall in 2007-2008
Centennial's Brett Maher in 2006-2007
York's David Adams in 2005-2006.